The Mojave Desert | San Diego County
---
Quiet open spaces filled with sunlit desert plants. The ocotillo, cholla cacti, and desert brush makes up the backdrop of your day. The soft greens, browns, and the open blue sky make your elopement outfits pop. The beauty of the desert is best taken advantage of during late fall to early spring, making it the perfect time to pull off an Anza Borrego elopement.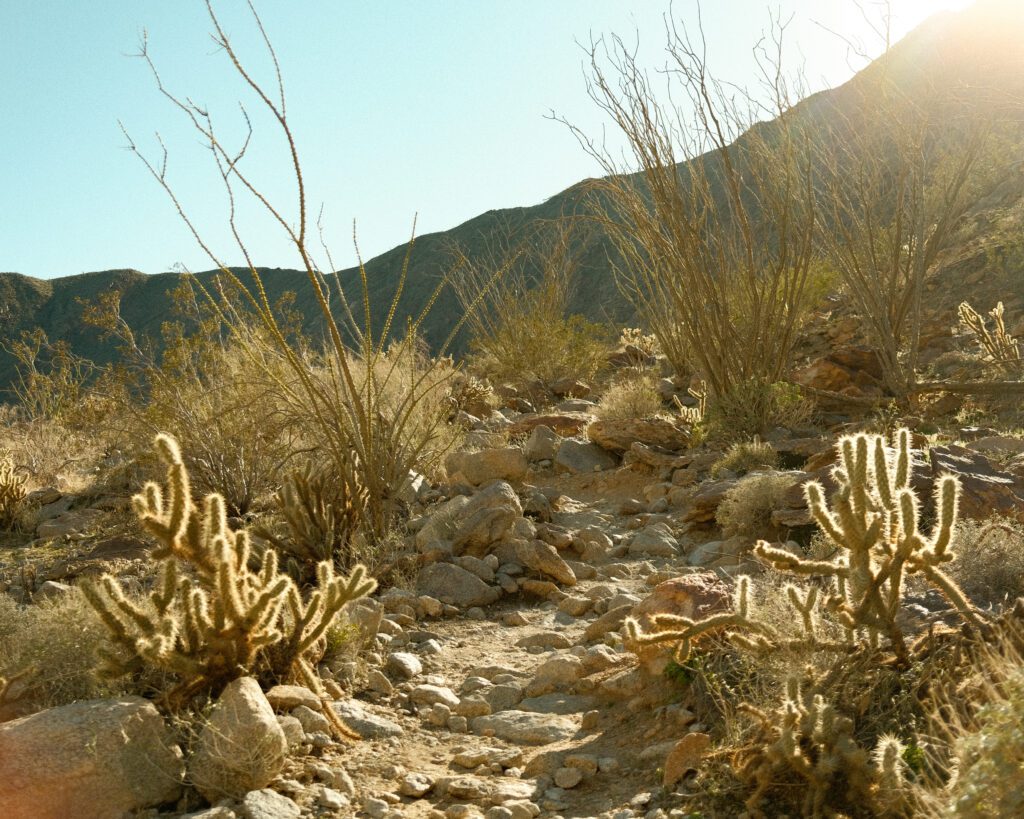 This area is best spent over, ideally, 2-4 days to really be able to visit the spots that will make the frames on your wall that much more gorgeous. Sunrise to sunset, Anza Borrego isn't lacking in any amazing spots to say your vows.
While Anza Borrego is a state park, there are lots of spaces to disperse camp around the area! And the paid campgrounds aren't super popular during this time and pretty affordable to boot.
I've taken some time to write up an Anza Borrego elopement itinerary – featuring an ideal timeline for a desert elopement – after spending quite a bit of time here over the years.
---
Day 1: Settling Into Anza Borrego
The desert welcomes you and helps you prepare for your elopement.
You spent the day before making your way over to the desert to get cozy and situated ahead of your elopement weekend. Maybe you found a cute Airbnb situation, or maybe you're staying in a van like me! A campground with a tent set up may have called your name instead. Whatever it is, you've slept well and begin the day in the dark with coffee. The sun has been rising slowly as we sleep in. Soon, the coffee is being made and we're eating breakfast together, officially getting to know each other in person, finally!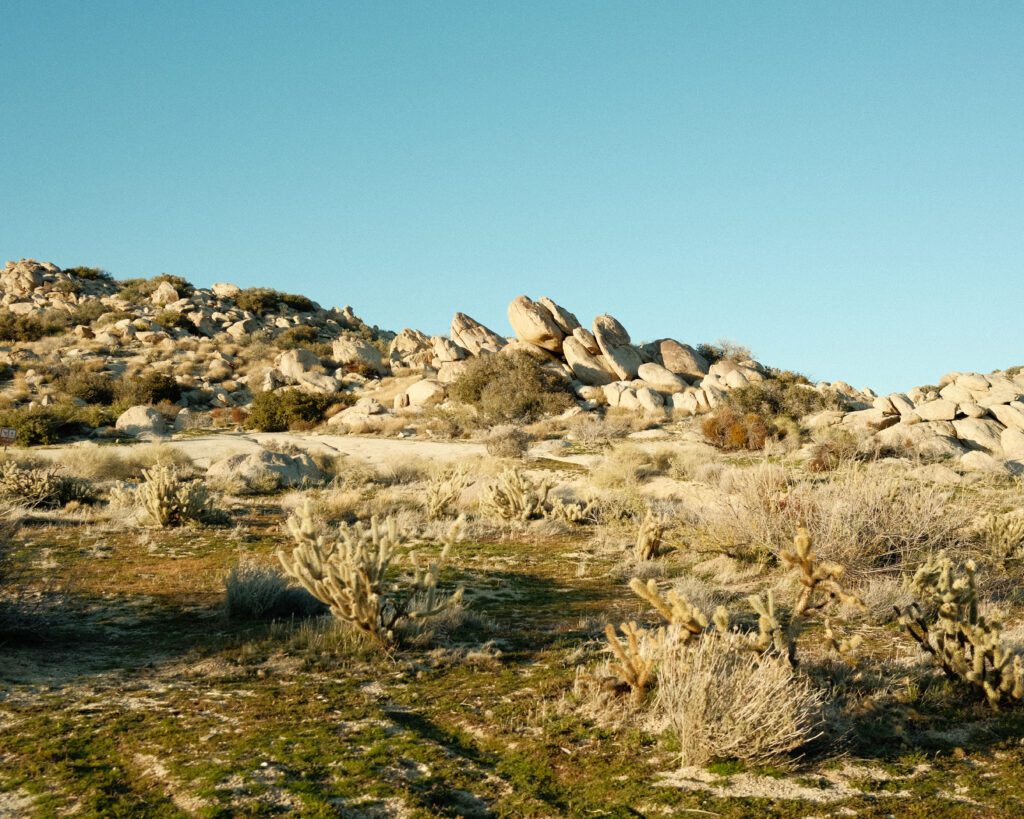 Our quiet little campsite is surrounded by boulders, desert brush, and open land on all sides. The bunnies make themselves at home between all the tiny spaces, making their way across the fields for their own breakfast as we gather. We chat about how beautiful and pleasant the little coyote howls sounded as we drifted asleep last night. This day is spent organizing the last little details of your wedding, nailing down plans for tomorrow, and exploring the area together.
One of my favorite hikes in Anza Borrego is the Borrego Palm Canyon Trail that leads to an oasis with a palm grove. An easy trail and not too long, you're rewarded with the sounds of clear trickling water (depending on the time of year and rainfall). Big horn sheep are known to frequent the trail towards the oasis and apparently the occasional mountain lion, too.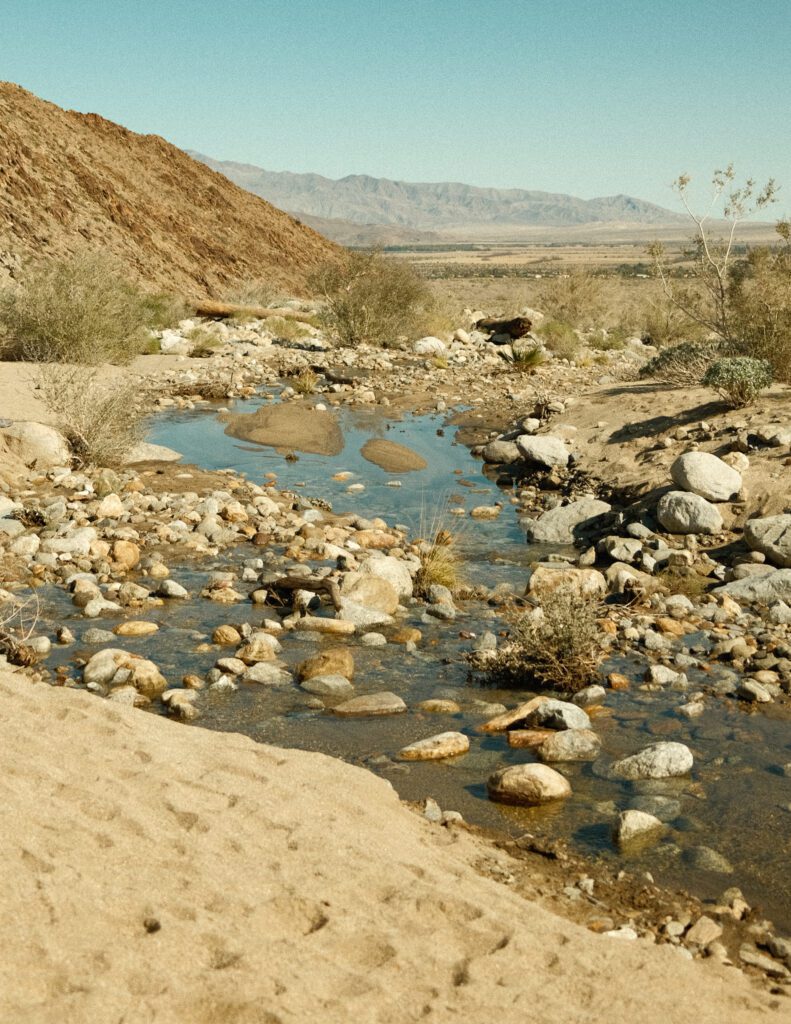 In recent years, unfortunately, the palm grove was damaged in a forest fire and is currently off limits to let the vegetation and soil regrow to become healthy enough to receive visitors again. Ideally, that would be a spot I would photograph couples. However, as a photographer who strictly adheres to Leave No Trace principles, it's nice to just visit while we're there.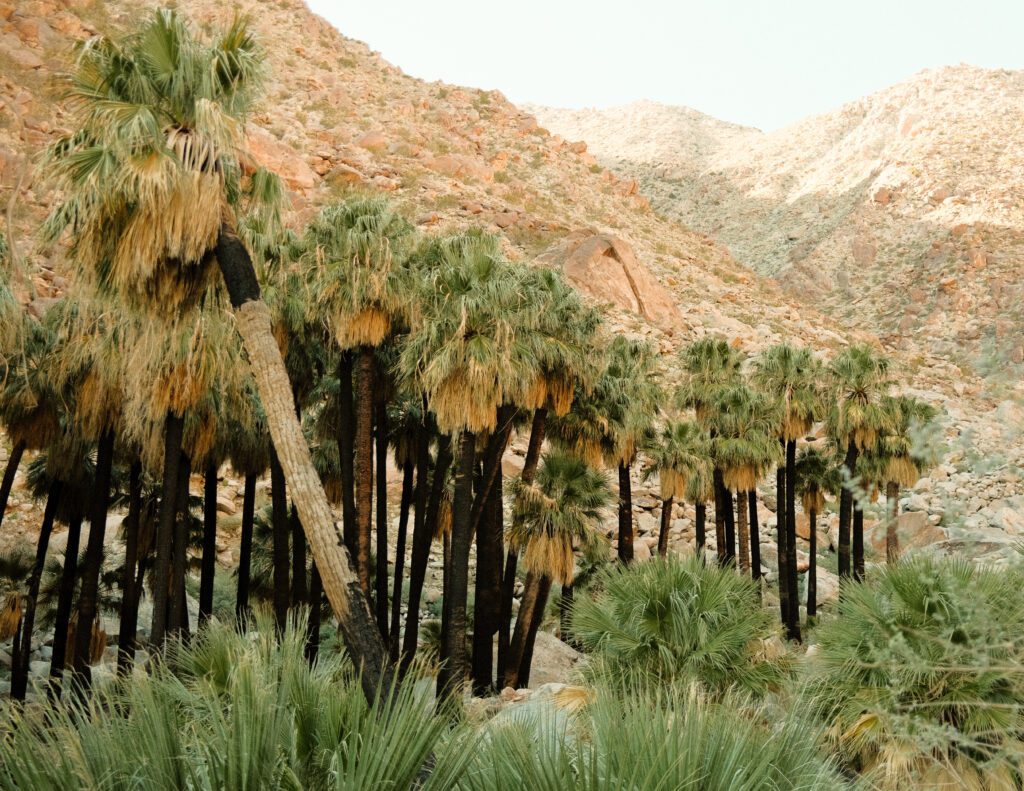 The sweet little town of Borrego Springs is one to explore and spend time in. So after a little morning hike, we make our way to town. There's the Frugal Coyote thrift store with the cutest desert ladies running it that is a must see. Like all other true thrift stores, it can be a hit or miss, but it was still pleasant to sort through the things that they had. Maybe you even find a couple of sweet items to include in your day!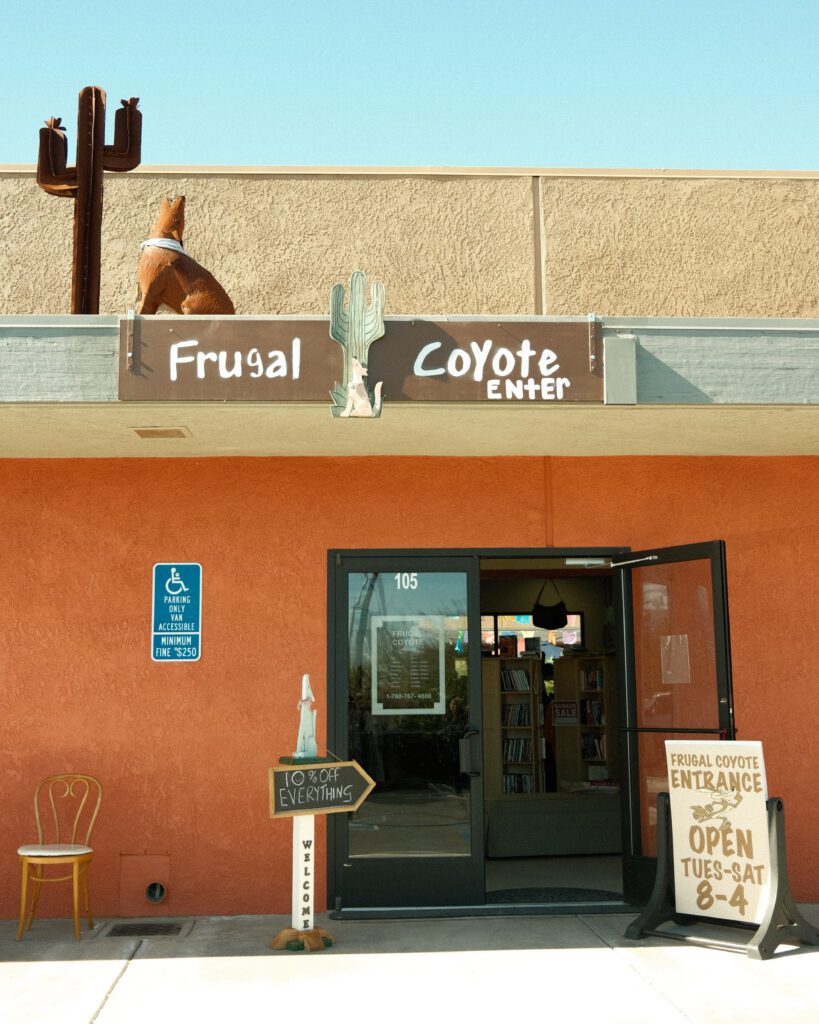 After a long lunch, we head to do another little afternoon hike called The Slot. It's the coolest hike and makes you feel like you're hiking through the narrow canyons of Northern Arizona! It's not very long and such a rad way to fill the afternoon.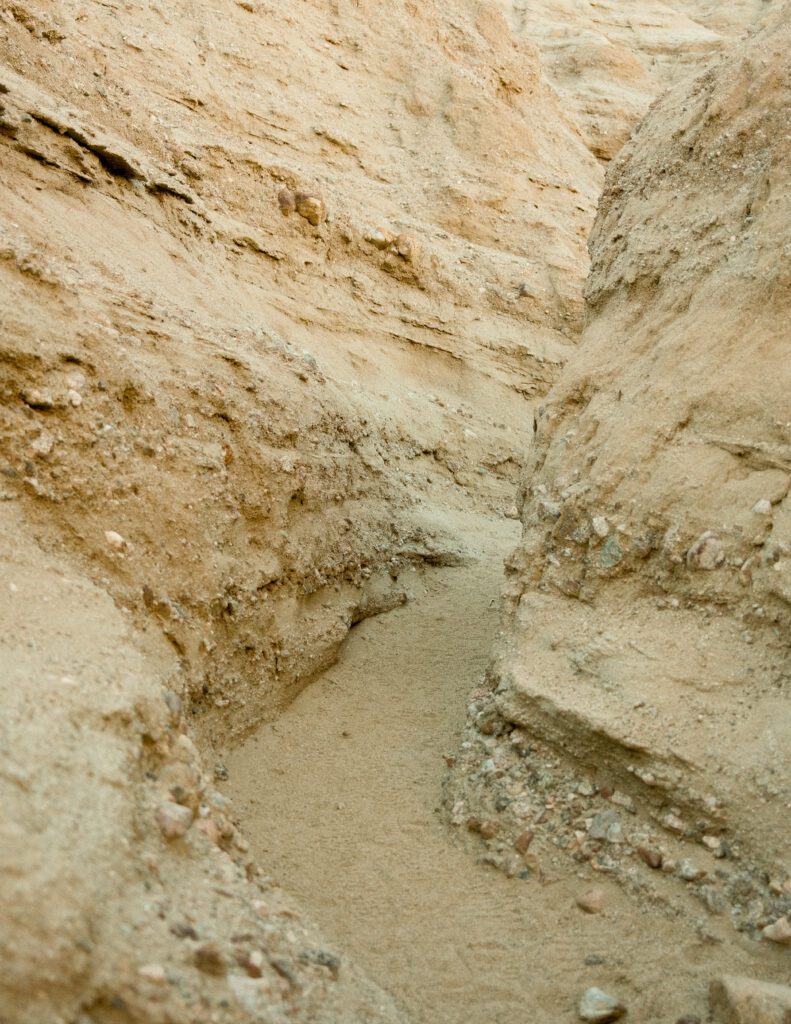 Nearing the end of the day, we make our way back to our campsite. I'll probably set up a hammock to snack in. Maybe get a little reading in before dinner while Marlow runs around. Ideally, you have also have a dog and they have the cutest time playing together in the sand.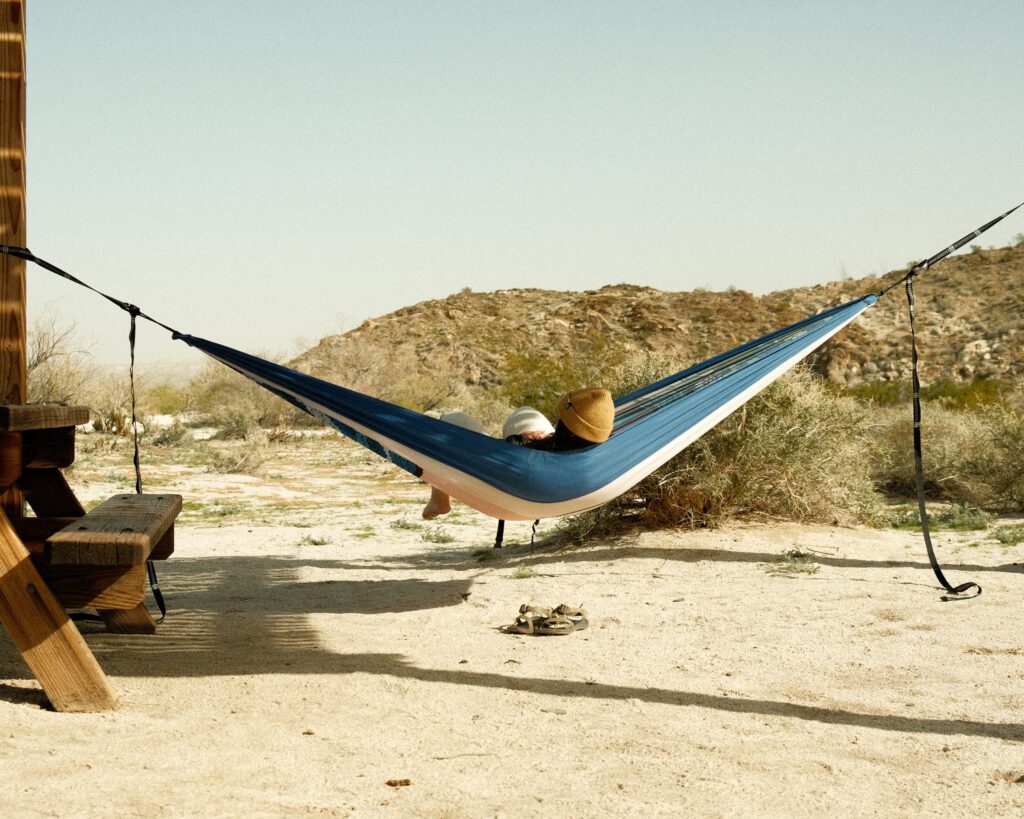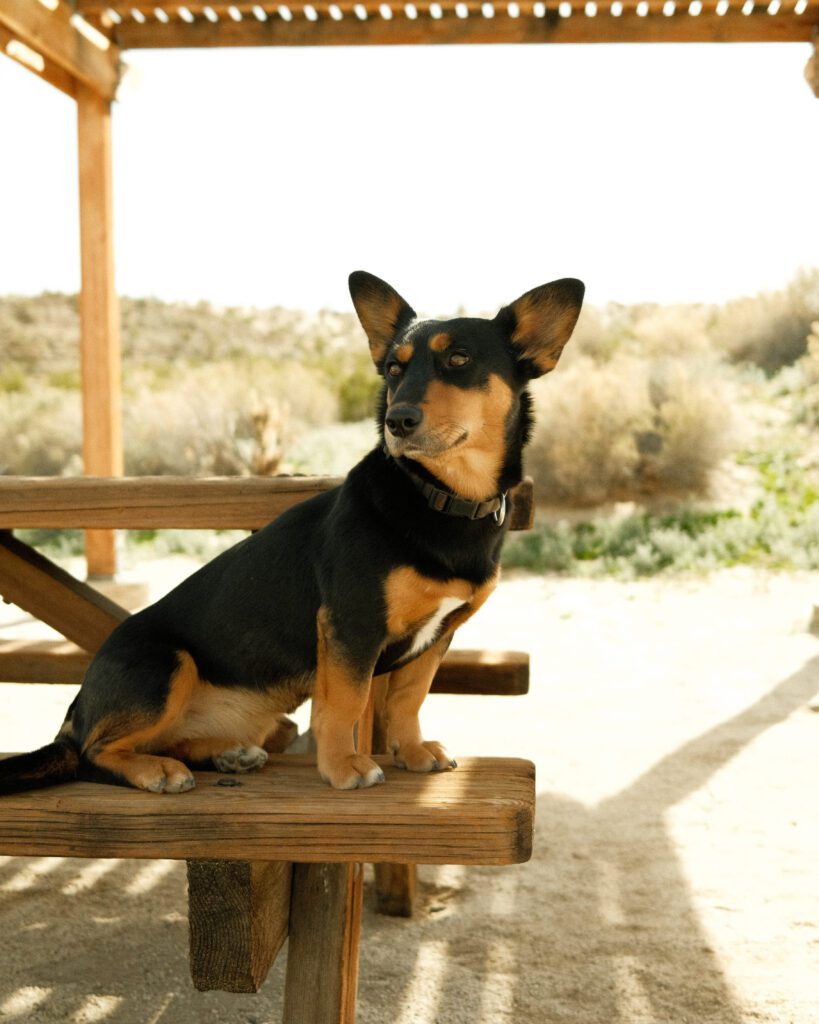 A solid option for dinner in town is at Big Horn Burgers and Shakes! It's technically part of the Palm Canyon Hotel & RV Resort but anyone's allowed to come and eat. Their burgers and fries are pretty dang good (they have a Beyond Burger option, too!) and the live music from local artists while you eat is such a fun time. Dogs are also welcome 🙂
We spend the last bits of our day fireside and star gazing before getting all cozied up in bed.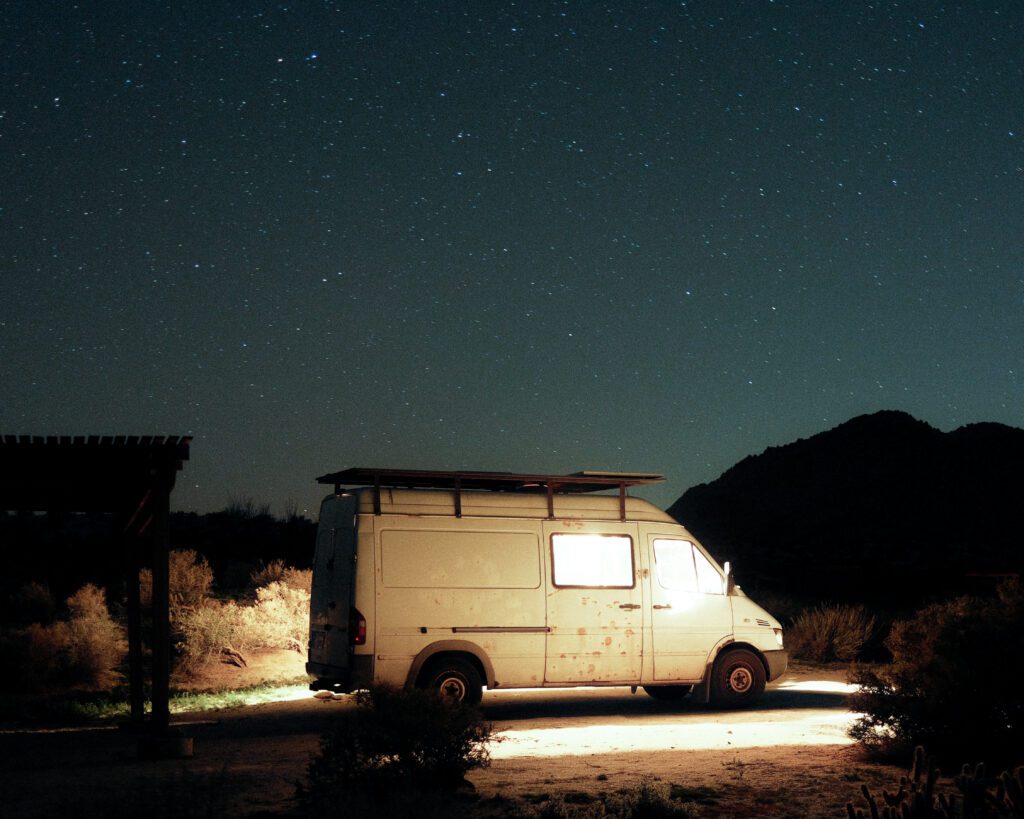 ---
Day 2: Your Anza Borrego Elopement Day
Picture this…
Sleepy eyes and early morning sips of coffee greet the day at a hilariously early hour. Your makeup and hair team (or maybe just your besties) meet us at the trail head and are ready to set started. The smell of the desert mixed with the perfume you've just put on create a core memory in your spirit, you'll never forget it. You and your partner get ready for the day together as the sky miraculously and slowly lights up. Putting on your wedding day outfits, we're ready to head out on the trail.
The first spot we're hiking for sunrise is a little hike called Pictograph Trail. Around 2.5 miles, it's an easy hike with the classic look of the Mojave Desert. We find a quiet gorgeous spot just as the sun is coming up and you've never felt this peaceful. Perhaps you take out some letters that your family/friends have written for you and read them out loud. Maybe there's a gift exchange between the two of you. The sun comes up and we are warming ourself in that glorious morning light as it streams through the cactus all around.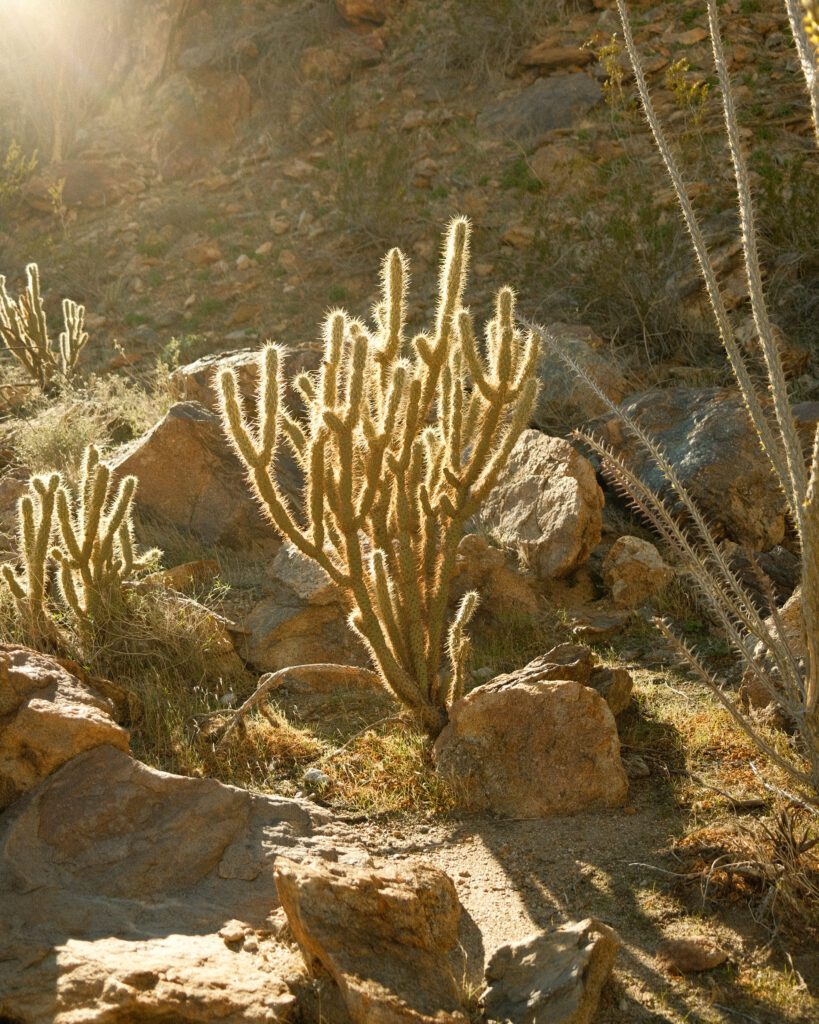 For the middle part of the day, we make it out to Mountain Palms Spring Loop. Now this little palm canyon has tons of palms that haven't been burned and its lesser known than its shorter counterpart. We've brought a little picnic set up, blanket and all, to enjoy lunch in the shade. Laid out on a blanket with some cocktails + quite the spread, we relax and take it all in! The hike is a bit longer but we've got nothing to do but enjoy the day so we meander our way back.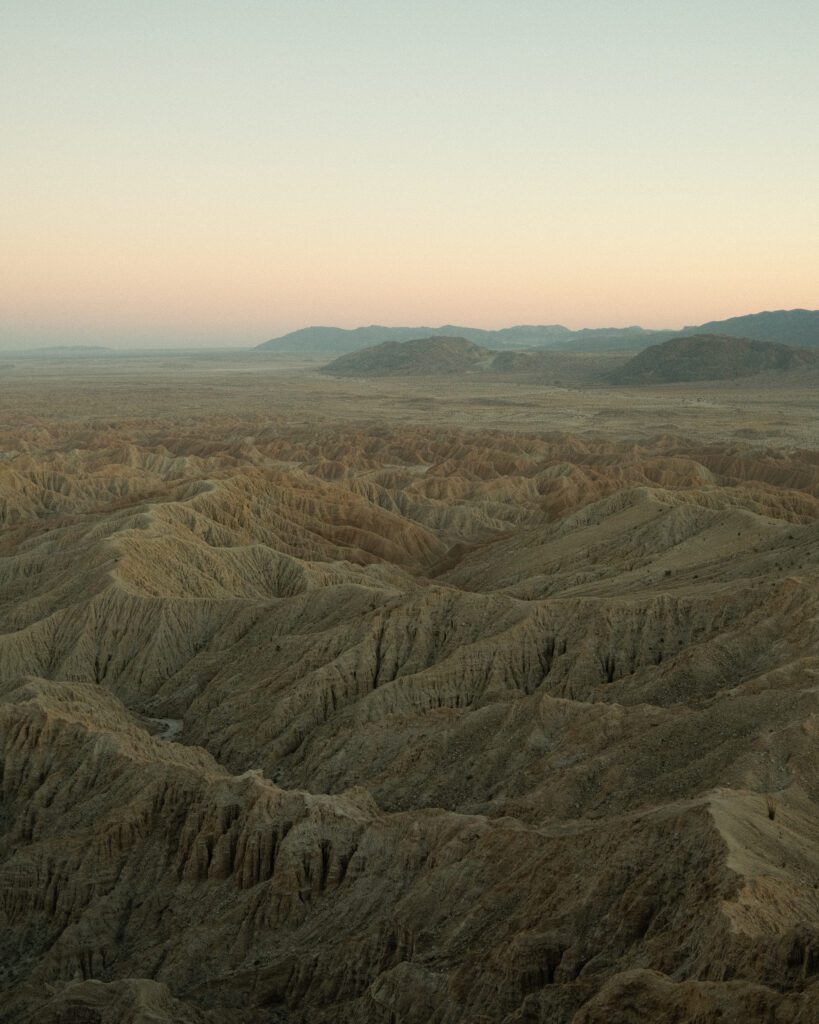 For sunset, we make our way early to Font's Point on the other side of the park. This 4 mile road that leads up to the badlands overlook is only 4WD accessible but absolutely worth planning ahead for. Maybe we involved some motorcycles, hop on a bike and make our way up! Either way, we're at font's points with plenty of sunlight left. The intimate vows you speak to each other against the backdrop of the dropping canyon sun close the day out beautifully. The colors of blue hour start to glow as the sun full dips its way out of sight, the light pinks + blues hover above the horizon light as the indigo night sky fades its way over. A champagne bottle has been shaken + popped + drank. We sip on bubbly and celebrate a successful elopement in Anza Borrego.
Back at the campsite, a beautiful table scape is being set up, and a private chef is cooking your favorite meal right as you arrive. The candlelit spread paired with the silhouettes of the camp scene around is the perfect way to greet the night. We eat together after a beautifully long day of connection with stars above and think about starting one final campfire. Naturally, we're all s'mores people, so it's a given that we fill the rest of our bellies up with chocolate, mallows, and graham crackers. The fire crackles and you've taken off your day shoes in exchange for some cozy slippers. Our beds call and we say our goodnights.
Back in my van, this is where I would be backing up all of your images on hard drives + organizing/ storing film. Wrapping up the day on my end means keeping all of your images safe and copied in a couple of places before I can get to editing them.
---
Day 3: Saying Goodbyes
Anza Borrego will wave you farewell.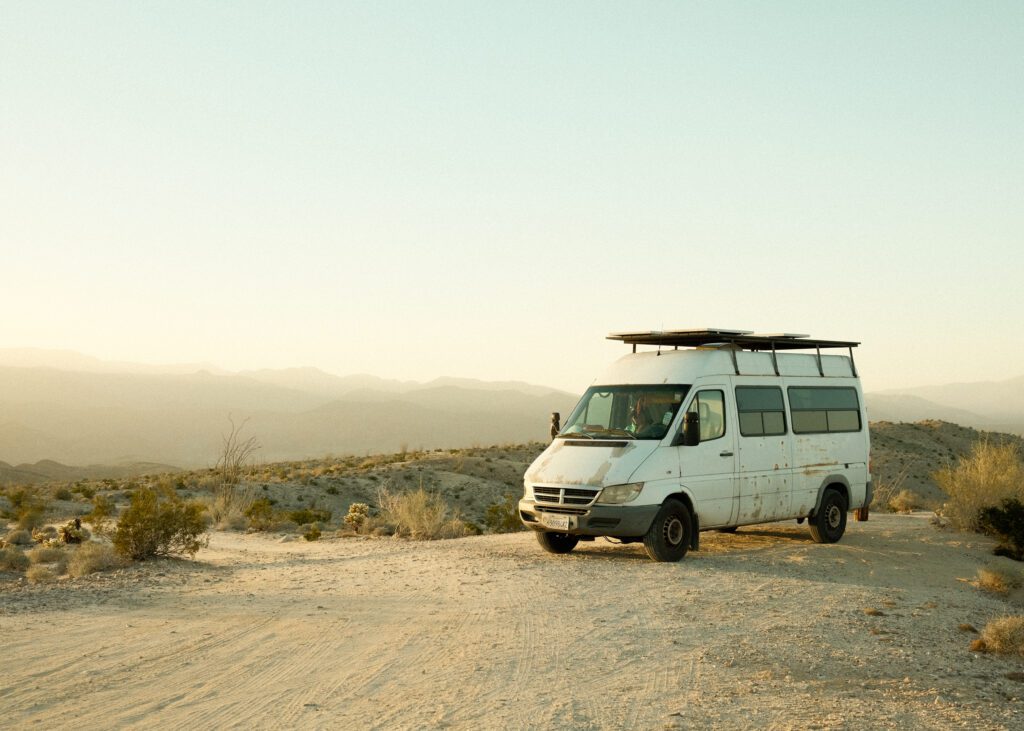 On our last morning together out in Southern California is spent slowly and reminiscing on the beauty of yesterday. Being an elopement photographer is bittersweet sometimes. Getting to spend a whole day and sometimes a whole weekend with my couples that turn into friends and then having to leave for the next spot always makes me a little sad. I have the privilege of spending a very important day with folks and it makes it that much sweeter when we get to reunite down the road for a little adventure when I pass through town. No matter what, we'll all be able to look back on your Anza Borrego elopement with happy memories and photos to prove it.
If any of this sounds like something you want to plan for your own elopement, drop me a line! Would love to help ya plan something rad. And if you'd like to buy some prints from my time in Anza Borrego, you can find them here!
Today is the day
Isabella xoxo