Wanna skip the crowds, reduce stress, and experience more intimacy when saying vows to your partner?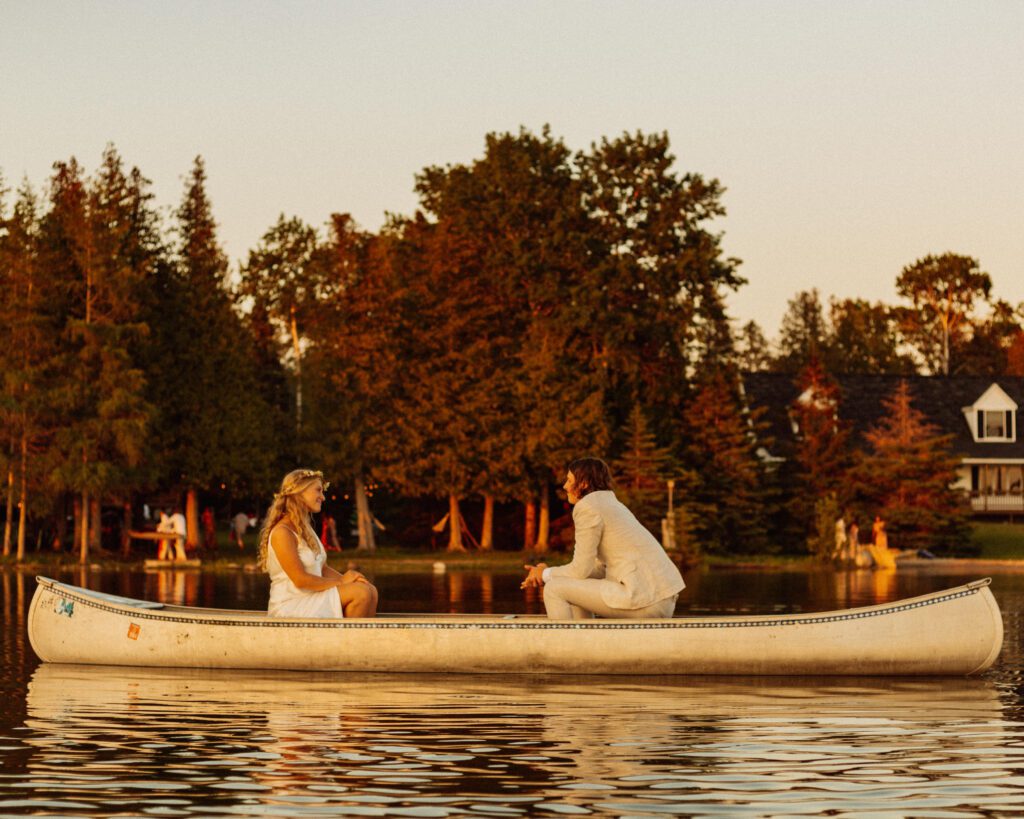 I knew it. Hence, why I wrote this blog post.
Part of the appeal of eloping instead of chalking up $35,000+ for a wedding is the stress factor. You want to spend a more intimate day with your best friend saying your vows instead of participating in the capitalistic day a wedding has become. With this idea becoming more and more popular, it's not uncommon to show up to your favorite National Park to see a dozen other couples getting married there, too. Between figuring out the permit systems of each National Park, requirements for your day, planning for busiest days of the year, it can seem just as stressful as what you opted out of.
North America, specifically the United States, has some of the most gorgeous and wild views I've ever seen. As someone who's traveled the country in a camper van for the last five years, I've seen A LOT. While National Parks are gorgeous and there's a reason why they're protected (whether ethically or not, but that's a topic for another day), there are so many other incredible places that shouldn't get overlooked.
I've put together a little list to get ya started and I hope you enjoy reading about these spots and add them to your list of places to visit at the very least! I'll be covering the areas in the Wind River range in Wyoming, Stanislaus National Forest in California, Three Sisters area in Oregon, the Sawtooth Range in Idaho, and the areas near Taos in New Mexico.
Remember to Leave No Trace! We have the privilege of exploring beautiful parts of the country and that comes with responsibility. Pack out your trash, respect wildlife and others, and leave the place better than you found it!
---
01 – Wind River Range
Wyoming
With insane mountain views and year round activities, the Wind River Range is the perfect place for lovers of high peaks to say their vows. A great expanse of sky that is only made more grand by the 30 or so 13,000ft peaks below. This part of Wyoming is perfect for the adventure couple that loves to put on a couple dozen more miles on their feet exploring as well as the couple that's more interested in a more casual scenic way.
The more research I do in this area, the more I fall in love with every single bit of it. I can't believe the amount of times I've visited Wyoming and haven't gone out of my way to see it!
This land rightfully belongs to the Eastern Shoshone people. As a steward of the land, as well as a photographer, my first priority is giving recognition and taking responsibility for my impact. This range doesn't receive as much traffic as its neighbors, Yellowstone & Grand Teton National Parks which means that we get to take extra care in making sure this place stays as pristine as possible.
I'll be mainly talking about the area close to the town of Pinedale but there are plenty of little mountain town around the area depending on what kind of accessibility you'd like to grocery stores, cute lodges, wifi, etc.
Seasons will more or less decide what your itinerary will be but the options are endless here. If you click the link above, you'll be able to see all that this area has to offer from people that love the land they're on. And if you're lookin to rent gear and get information on local road closures, weather, bear reports, etc., you'll wanna check out Great Outdoor Shop.
Where to stay
For non camping accommodations, I'd check out the Lakeside Lodge! From there, you could spend time in the summer months day hiking, fly fishing, boating, and horseback riding. And in the winter, there's plenty of snow for snowboarding/skiing and options for ice fishing, too.
Pinedale Cozy Cabins is another option. More of a group setting like a hotel with cabins all connected but close to downtown for easy dining access.
If you're looking to go the Airbnb route, I found this really cute airbnb in the area for those wanting something a little more private. Birds Eye View Cabin is right by a little creek and even has a sauna. Apparently, you can also expect moose to be hanging out in the water on hotter days!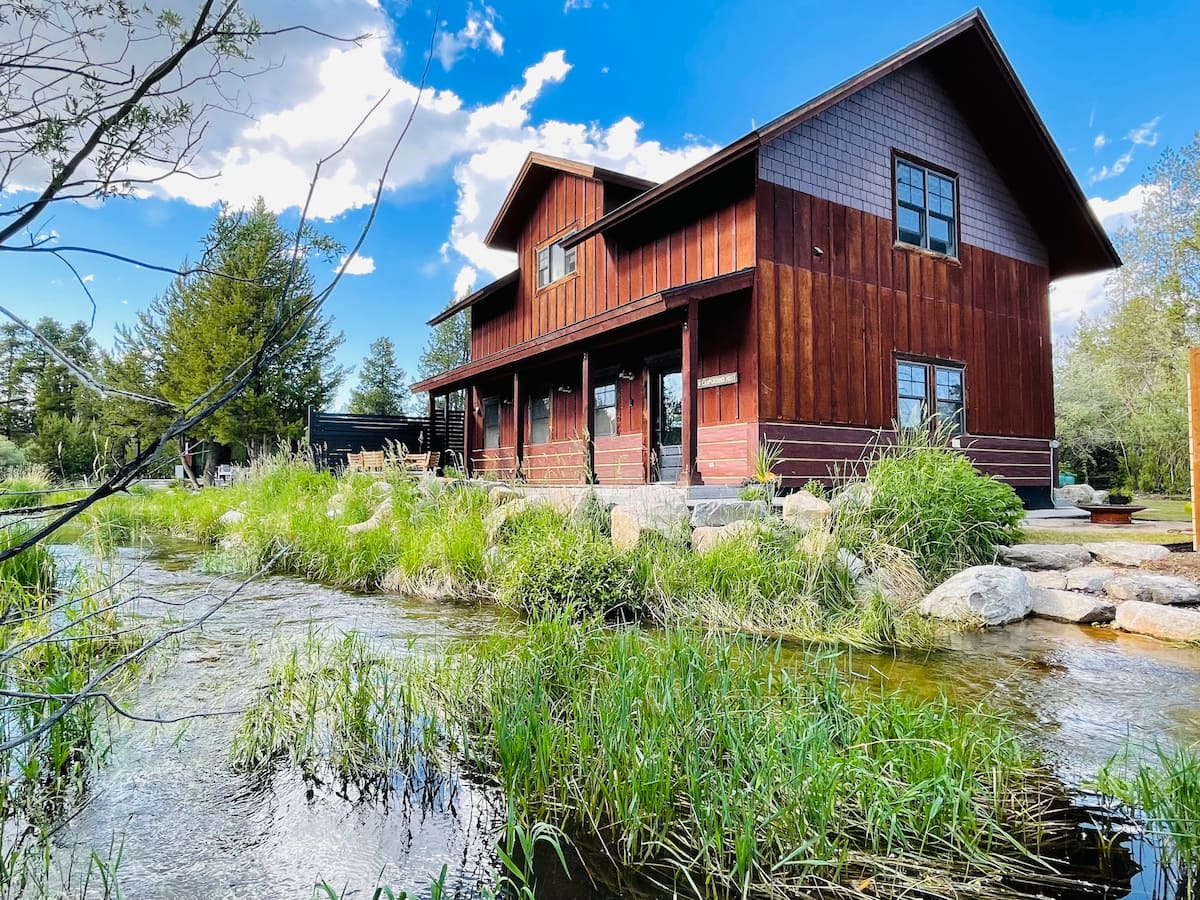 As far as camping options, there are SO many to choose from with lots of variety of access and features. Definitely recommend checking The Dyrt for some cool sites!
Trails and viewpoints!
Formed by a glacier, Wyoming's 2nd largest natural lake is Fremont Lake. A hub for fishing, water sports, wildlife sightings, and even sailing with a regatta in August! There's tons to explore and while there aren't any designated hiking trails, you have the freedom to roam around wherever your heart wanders on numerous game trails in the area. There are a few places to camp in the area as well, with some areas being more primitive and others are more fully developed campgrounds.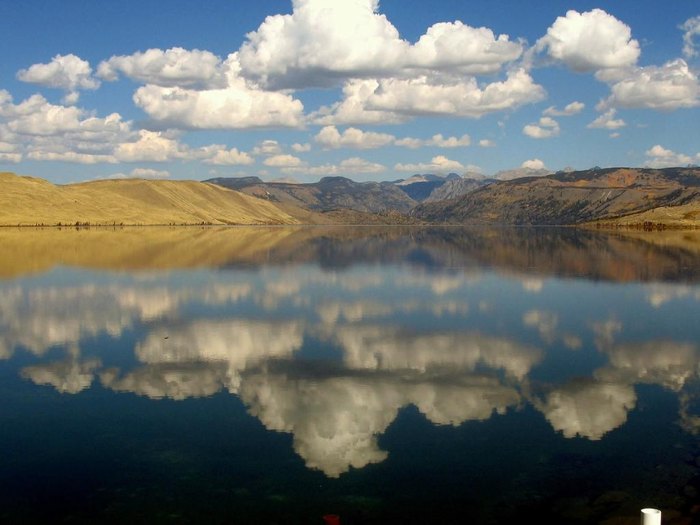 ---
Tips to remember when heading outside + planning an elopement:
- Follow Leave No Trace principles
- Avoid mosquitos by planning your trip according to when they disappear
- Call around for seasonal road closures and road conditions
---
If you don't mind a little drive (or if you're staying in Lander), Sink Canyon State Park is a gorgeous spot featuring the Popo Agie river. The river runs through the 600 acre park, disappears into a cavern underground and then reappears after a quarter mile. Here you'll find pristine trout fishing with a gorgeous wild Wyoming backdrop. If you're more into climbing, checkout the Mecca that is Limestone Mountain 24 miles southwest. There's also gorgeous 70 mile Loop Road with viewpoints of alpine lakes, peaks, and wildlife via car that you can't miss. From Lander, you'll also have plenty of access to the United States' first National Forest, the Shoshone National Forest, with TONS of trails to explore.
For those wanting to explore the Wind River range via hiking, there are plenty of options! I've listed three here but feel free to explore others on your preferred hiking website/app. First, there's the Sacred Rim Trail, 3.3 miles and only 500 ft in elevation gain paired with a stunning backdrop for some insanely beautiful photos. An impressive canyon greets you at the end of your hike and you'll see why it's such a popular trail. Would definitely make a magical place to say your vows together.
The next hike featured is the Photographers Point trail via Pole Creek! An out and back trail covering 9.5 miles and a gradual 1,100 feet elevation gain. With lots of forest coverage and plenty of wildlife, you'll end the hike at a gorgeous viewpoint overlooking Fremont Creek down below in the canyon. If you're looking to take this adventure a little further, go backpacking! This area is so so beautiful and spending the night overlooking the range in the backcountry is a surefire way to really take it all in.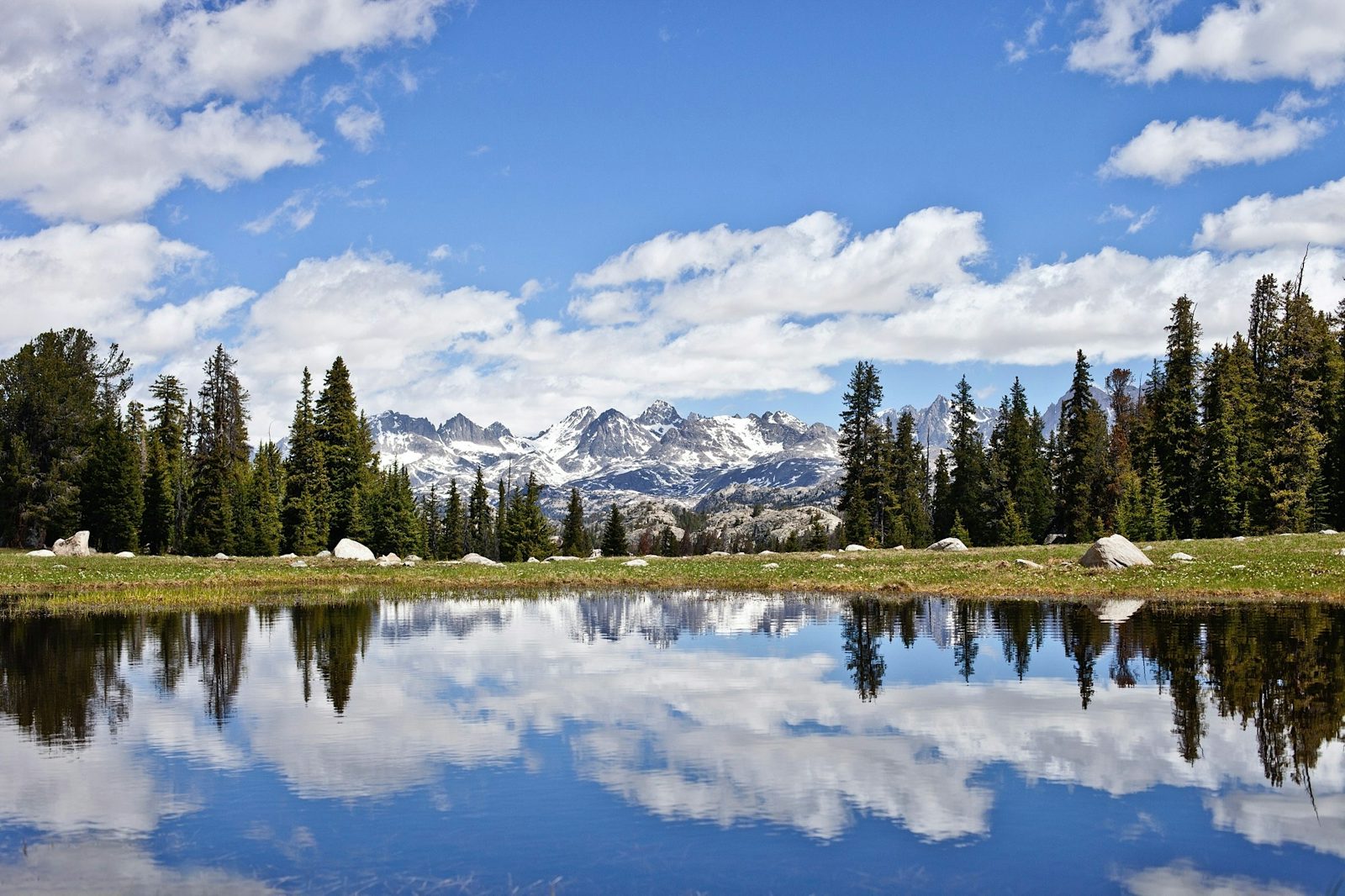 Now, if you're really trying to make the most of your time in the range and want to put a few miles on your boots, definitely check out the Cirque of the Towers. 18 miles to the overlook but 30 miles if you wanna do the whole look and spend a night out there. It's rated pretty difficult with lots of boulder scrambling on the way up past Big Sandy. But if you're capable and willing to make it a full adventure, I say do it!
This is just the START of exploring this area of Wyoming. There's so many ways you can build out a beautiful day or weekend here for the start of your marriage. I'd love to help create a custom itinerary for your elopement!
---
0 2 – Stanislaus National Forest
California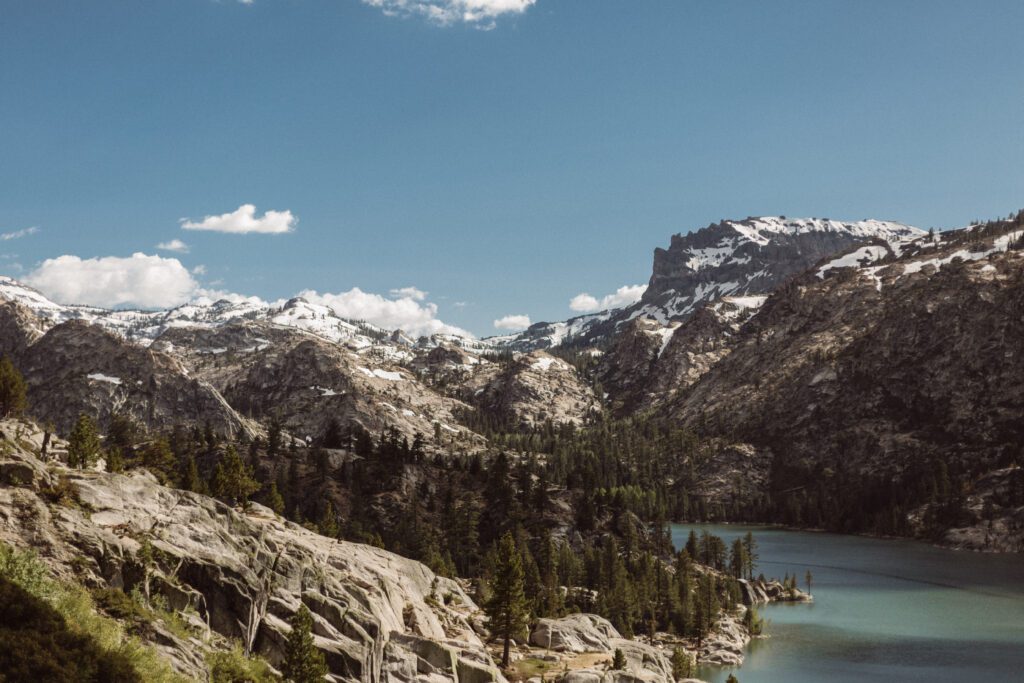 Stanislaus was the National Forest that I actually had my first California backpacking trip in! We did the Relief Reservoir trail (part of the PCT!) and when we arrived at the reservoir, I was sold. It's a gorgeous part of California and way less crowded than it's magnificent neighbor, Yosemite. Although it doesn't have those classic rock features that Yosemite Valley has, it's absolutely gorgeous. In the heart of the Sierras, you'll find no shortage of gorgeous views and incredible experiences.
The land in this area belongs to the Miwok and Washoe peoples. You can read about their history, culture, and land here!
Where to stay
If you're lookin to enjoy the weekend in a cute little town, the front country, or the backcountry – boy, are there options for you. You've got your pick of towns (Sonora, Tamarack, Long Barn, and Arnold to name a few) along with countless front/back country sites. I'd definitely recommend checking out the national forest website and maybe even calling a couple ranger stations to hear their recommendations for the time you'll want to be there and the features you're looking to be around.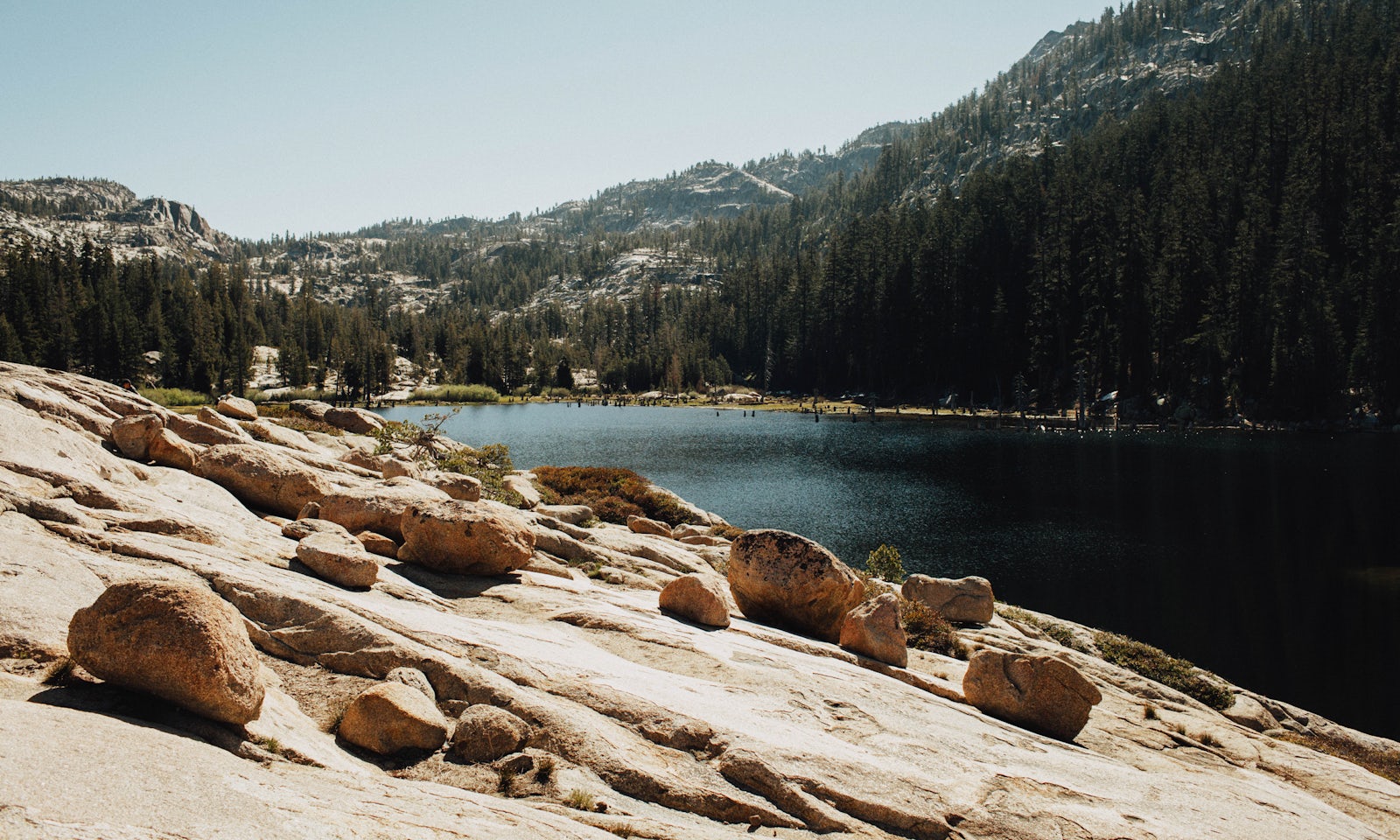 I found quite a few airbnbs around the area so I'll list them all here instead of covering them individually. Airbnb #1, Airbnb #2, Airbnb #3, Airbnb #4, Airbnb #5, and Airbnb #6. I'd also check out Lake Alpine Campground, no reservations needed as it's on a first come, first serve basis!
Now, if you're looking to stay at a lodge with cabin and tent options, I'd highly recommend Lake Alpine Lodge or Long Barn Lodge. Both are fantastic options for a cute weekend away with your best friend.
Camping options are numerous, too numerous to list but to get you started, I'd check out Utica Reservoir! This site also has links to other camp spots in the area at the bottom, so feel free to explore and find the best fit for you!
Trails and viewpoints!
First up, we've got the North Grove Trail in Calaveras Big Trees State Park. Given the name, you will be seeing some big trees in the area. It's lesser known than its sequoia and redwood counterparts, which means less crowds! Definitely way more low-key and this trail is super accessible. It's a 1.7 mile loop with giant Sequoias all around and absolutely gorgeous. And if you're going in the shoulder season, you'd definitely have more of the park to yourselves.
Next is Chewing Gum Lake in Emigrant Wilderness, a trail about 9 miles around trip and about 1,500 feet in elevation gain. Scenic views include the lake of course surrounded by beautiful rock features, fields of flowers in the summer, and trees along the way. You also have the option to backpack here as long as you have the proper permits. In addition, from the reviews I've read, there don't seem to be very many mosquitos out there, which we love.
Another great trail for either a day hike or an overnight is Bear Lake. Around 8 miles round trip and less than 1000 feet in elevation gain, it's definitely more moderate than Chewing Gum but just as beautiful. Again, you'll need a wilderness permit to backpack here but the forest service makes it pretty easy to acquire given that it's not quite as popular as Yosemite.
Lastly, for this blog at least, we've got Pinecrest Lake Loop. At 4 miles round trip and 360 feet in elevation gain, this is the easiest one out of the bunch with similar features as the other two. Because of that, it might be a bit more crowded.
---
Pro tip: plan your elopement on a weekday and you'll see WAY less people out where you wanna be. You'll have your choice pick of campsites, too.
---
There's also a gorgeous drive you could take should you want to rent a cool lookin car for the weekend (anyone interested in an old Bronco or Scout?!).
From boating and hanging out by the lake, to hiking and camping the weekend away, there's tons to do! Wondering what all you could do? Here's some tips on what to include in your day!
---
03 – Taos
New Mexico
As an outdoor lady, I've heard the glories of Taos for half a decade. It's in the part of NM that starts looking like a beautiful love child of Utah and Colorado. The land here is so beautiful and there's so much to explore close to town for those not wanting to be that far from civilization. In the open land in northern New Mexico, you're sure to find some of the most beautiful sunsets around.
The land here belongs to the Taos Puebloan people.
Where to stay
There are SO many cute airbnbs to stay in Taos and here are just some of the ones I've come across on a 10 minute search (this one, this one, this one, and this one)! There's also the Taos Motor Lodge right in town which is less of a secluded stay but still a cool option if you're not gonna be spending much time there.
If you're choosing to stay in Santa Fe and drive up to Taos for the day, I highly recommend El Rey Court.
Bonus: there's also a new hotel opening up in Taos called Hotel Willa that I'm SUPER excited to check out when it's completed!
Trails and viewpoints!
The first trail I'm sharing, the Slide Trail is a pretty easy 2.7 out and back hike with views of the Rio Grande Gorge. With only 500 or so feet of elevation gain, it's a quick, doable hike. Maybe a little sunrise ceremony with coffee to start your day!
Next is Williams Lake Trail featuring beautiful forested mountains all around, this 4.2 mile hike is a good choice for someone who's looking to explore a little bit more. Depending on the year, there could still be snow on the peaks around ya!
If you're looking for a quick spot with some indigenous ruins and petroglyphs, you've definitely gotta check out the Tsankwai Ruins Trail. Maybe not the move for someone who is a little afraid of heights and ladders, though!
---
Pro tip:
- avoid the summer! It's bound to be way too hot anyway, so avoid the crowds and go in the shoulder season
- plan around the special events in the area you wanna go to! either don't plan for that weekend or make plans to include it in your itinerary (like the Taos Balloon Rally!)
---
And if you're in Taos, you can't miss the famous Rio Grande Gorge Bridge. An epic spot to spend sunrise or sunset to really experience the harmonious colors of the desert sky.
Northern New Mexico is a rad place to get to explore and so many ways to do it. From horseback riding and rafting down the Rio Grande to riding in a hot air balloon and exploring the native culture in the area. There's no shortage of open land to roam on (respectfully, of course) and it's well worth the trip.
04 – Bend
Oregon
If there's one thing I know, it's that Bend is a happenin spot. Despite not getting as much traffic as Portland, it really is such hub for the most beautiful desert-y parts of Oregon while still getting that classic pine forest experience. The rivers in southern Oregon and the climbing available really draws in a lot of people that love getting outside while still having access to countless events, fantastic food trucks, and so many spots to explore and relax in.
The land here is mostly the Confederated Tribes of Warm Springs with additional tribes surrounding Bend
Where to stay
While Bend is fantastic, you also get a bonus spot called Sisters. It's is quaint, small, and on the way to lots of really gorgeous spots to romp around with your partner. One of the best things about Oregon in general is the amount of BLM land available to disperse camp. Like above, one of my favorite apps to find places to camp, especially on land where you don't need a permit or reservation is The Dyrt. There's not a shortage of spots to roll through, just make sure to check reviews of the spots (or if you hire me, I can do that for ya) to make sure you have the right vehicle + clearance for the current road conditions.
If you're looking to not camp, there are a generous amount of options for ya here. Honestly, maybe too many options and I couldn't even hypothetically decide which ones I would stay in so good luck in that department. I'll list them below and let you have that internal crisis within. You're welcome.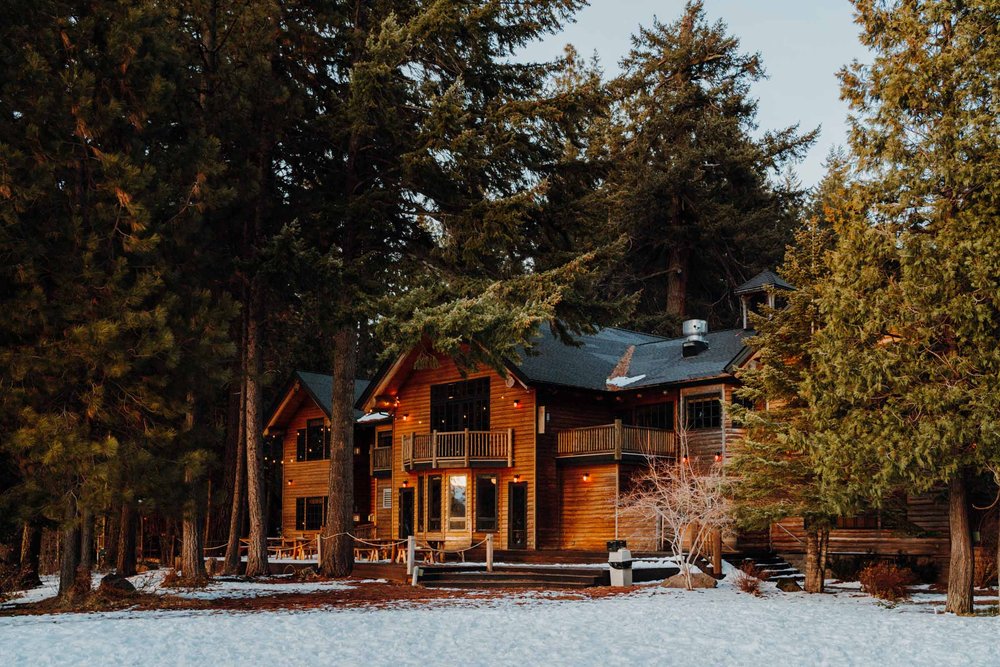 First, there's Suttle Lodge. One of my all time favorite places I've ever visited on the road. Gorgeous design, lots of summer events, live music, boat rentals, a dock with a lake that feels amazing to dip in, delicious food from the boat house. And dog friendly?! A dream place for a freelance girly living on the road with her pup. They've got cabins and campgrounds and even an artist residency. It would be a DREAM to shoot here so obviously it had to be number one.
Other lodges/cabin options are: FivePine Lodge, House on the Metolius, Black Butte Ranch, Wallowa Lake Lodge, Oasis Cabin Resort, Loloma Lodge, and lastly, Lake Creek Lodge. All fantastic options, truly. Similar features with a uniqueness to each one so call around and figure out which one would be the right fit for you. For staying in lodges like these, there's a couple ways to go about it. You could stay here with friends + family for getting ready and leave to get eloped in a more secluded spot if you're looking for something a little bit more exclusive. Or have your whole elopement weekend there, ceremony and all!
Trails and viewpoints!
If you're into climbing on some gorgeous rock jutting out of the earth like dinosaur spines, Smith Rock State Park is the spot. With the Crooked River running through the valley, you get some insane views that take your breath away. Check the website for climbing + road closures (climbing is limited during certain parts of the year for golden eagle protection). There's also plenty of camping in and outside of the park.
Other spots to consider would be Sparks Lake area, Newberry Volcano area, and the gorgeous Painted Hills (although, this last place could be really popular on the weekends on a beautiful weekend).
Some of the trails I would consider are the Tam McArthur Rim Trail, Green Lakes Trail, Paulina Lake Loop, and Sahalie + Koosah Falls Trail.
Whether you're choosing to boat around on a lake, go on an overnight trip somewhere wild, or spend an intimate weekend with your closest people, Bend has got it all.
---
05 – The Sawtooths
Idaho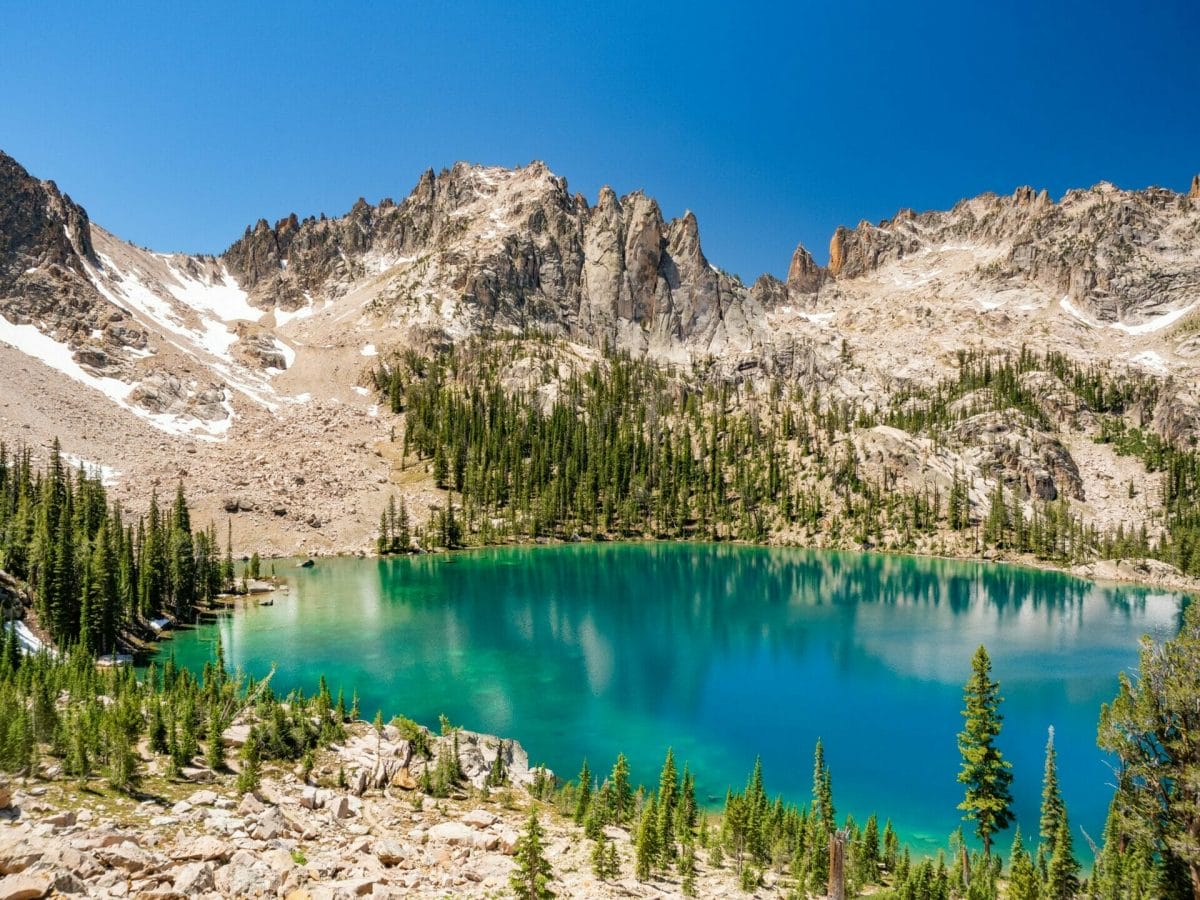 One of the most beautiful ranges in North America that tragically gets overlooked. Well, not today! She may be getting the last spot in this post but she's certainly not last in my heart. While I think Idaho as a whole is pretty underrated, it's this spot that I think about anytime I pass through this part of the country. With dozens of cute little towns surrounded by beautiful and intense peaks, you're bound to get your hearts fill and more of the mountains and all the good things that come with it.
This part of the country is perfect for those really want to be surrounded by mountains and nature and not so much by big cities. You'll definitely put in some beautiful miles on your car here and hopefully the incredible images from me on your elopement day to go with it!
This land belongs to Nez Perce, Shoshone, and Bannock tribes.
Where to stay
In the towns of Ketchum, Stanley, and Challis there lives glorious mountain ranch vibes and the accommodations I'm about to recommend could help you fulfill your cowpoke dreams. Gateways to the sawtooths, these towns (and plenty others I'm sure) have plenty for you to explore in the days before, during, and after your day with your best friend.
Take some time to check out some of the options I've found. Lots of rad things to do and see in this part of the country, so figure out what your priorities are and how you'd like to spend your day!
Idaho Rocky Mountain Ranch, Red Fish Lake Lodge, Sawtooth Lodge are options for those who don't mind staying with other folks on property. For those looking for more of a secluded option, I found 3 airbnbs I think you'll like! Airbnb #1, Airbnb #2, Airbnb #3 (the last one is a group of tiny homes all separated).
Trails and viewpoints!
While a lot of the trails here range from moderate to pretty freaking hard considering you're in these beautiful mountains, there's also plenty of viewpoints and features to visit via car. Hell, if you're really wanting to take looking at this gorgeous range, take it up a notch and schedule a helicopter tour! There's also plenty of options for skiing and exploring in the snow during the winter if you're looking for a colder experience.
We've got Stanley Lake to Bridal Veil Falls, Bench Lakes Trail, Alice + Twin + Edith Lakes Loop, Sawtooth Lake, and Goat Lake + Falls. And remember, you don't have to do the whole trail! There's plenty of gorgeous parts of the trail throughout the whole way. There's no pressure to finish a hike or power through till the end.
Black Magic Canyon is also an insane place to explore. The cool geometric shapes of rock and canyon everywhere, you're gonna get some really incredible photos that look otherworldly.
There's also the Sawtooth Scenic Byway! I really appreciate that someone out there knew that we would want to see gorgeous things via car and then made roads just to see beautiful things. As someone who grew up on driving on the Blue Ridge Parkway that was made exclusively for tunneling through gorgeous forest, I love a good byway.
As an elopement photographer, one of the best parts about my job is getting to find the sweet little parts this geographically diverse country and plan a day that's tailored just for you. Exploring around and getting to call it my job? Hell yes, sign me the f up. If you're like me and want some peace and solitude on your big day, please know that I care about how your day turns out just as much as you do. I'm a big proponent of doing exactly what you want to be doing and the way you want to be doing it. I would love to connect and help ya figure out what that looks like for you and your partner.
Feel free to browse my website, check out some galleries, and fill out the form under the contact page so we can get a conversation going to see if we're a great fit!
Lots of love and kisses to the cutie pies reading this,
Today is the day!
Isabella xoxo