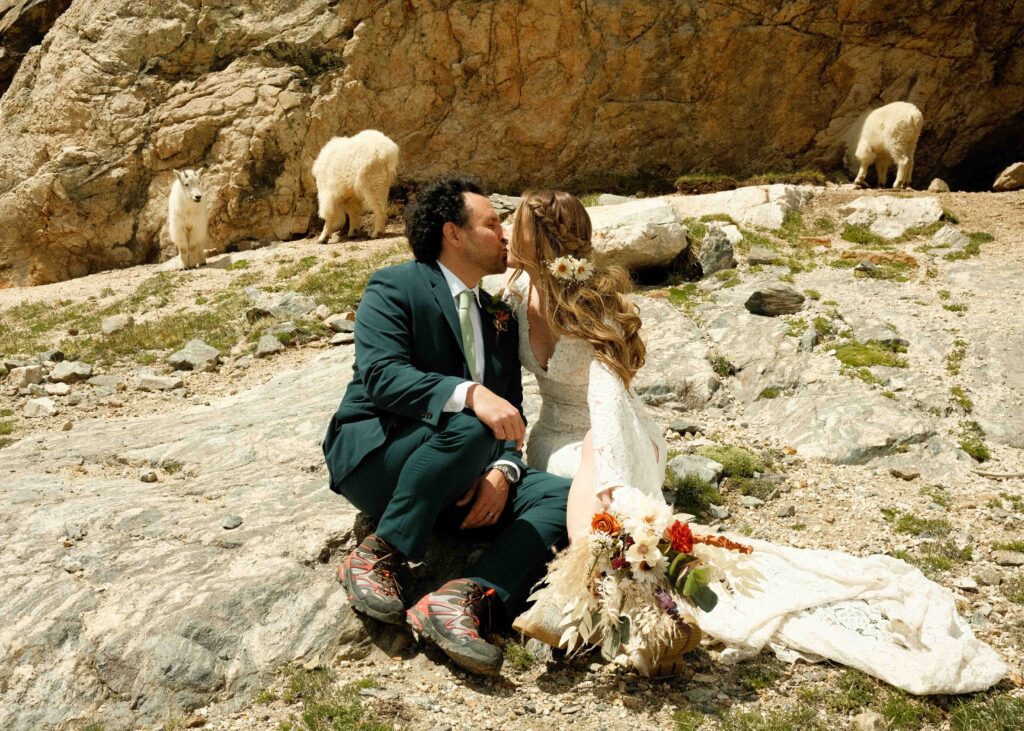 I cannot begin to describe what it feels like to be able to work with folks that just get it. I'm incredibly grateful anytime I get to hang out with a couple that shares the same values for human life. In fact, that's exactly how Erin + Josh met. They met through a Facebook thread by tag teaming in the comments against some pretty hateful Tr*mp supporters. They met, fell in love, traveled together, and eventually found me through Tiktok. We talked on the phone to see if we were a good match and gosh darn it, we were. Soon enough, we were planning a lakeside elopement in Colorado.
With a vague description of what they wanted their day to look like, then gave me the reigns to plan. A photographers dream! We initially had plans to take the summer lift up in Breck and then canoe around Dillon reservoir. However, fate had other plans. The lifts in Breck were opening just a few days after their elopement unfortunately so that was out. Then we had some pretty swift winds and dark clouds over Lake Dillon. We agreed that our idea of fun was not paddling against the wind for an hour!
---
Their airbnb was the cutest little a frame in Kremmling, a little over an hour north from their ceremony site. I had driven up the night before from Colorado Springs and slept in the van in the driveway. My favorite part about living on the road is the comfort of having my home right where I need to be.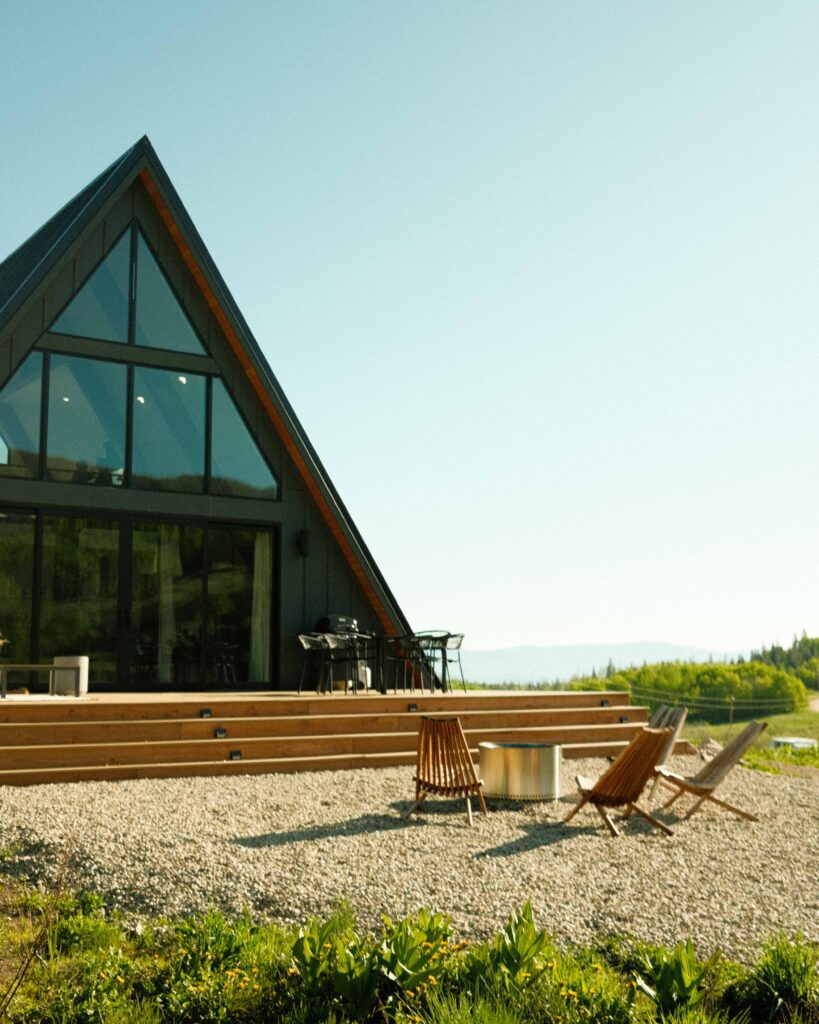 Hair and makeup showed up early while I slowly started my morning and prepping my gear in the van. My gear for this elopement was: my trusty Fujifilm x100v, Canon 318M Super 8 camera, a Kodak Half Frame film camera, and a Canon A1 camera. And of course, stocked with multiple SD cards, 35mm film, Super 8 film, and extra batteries.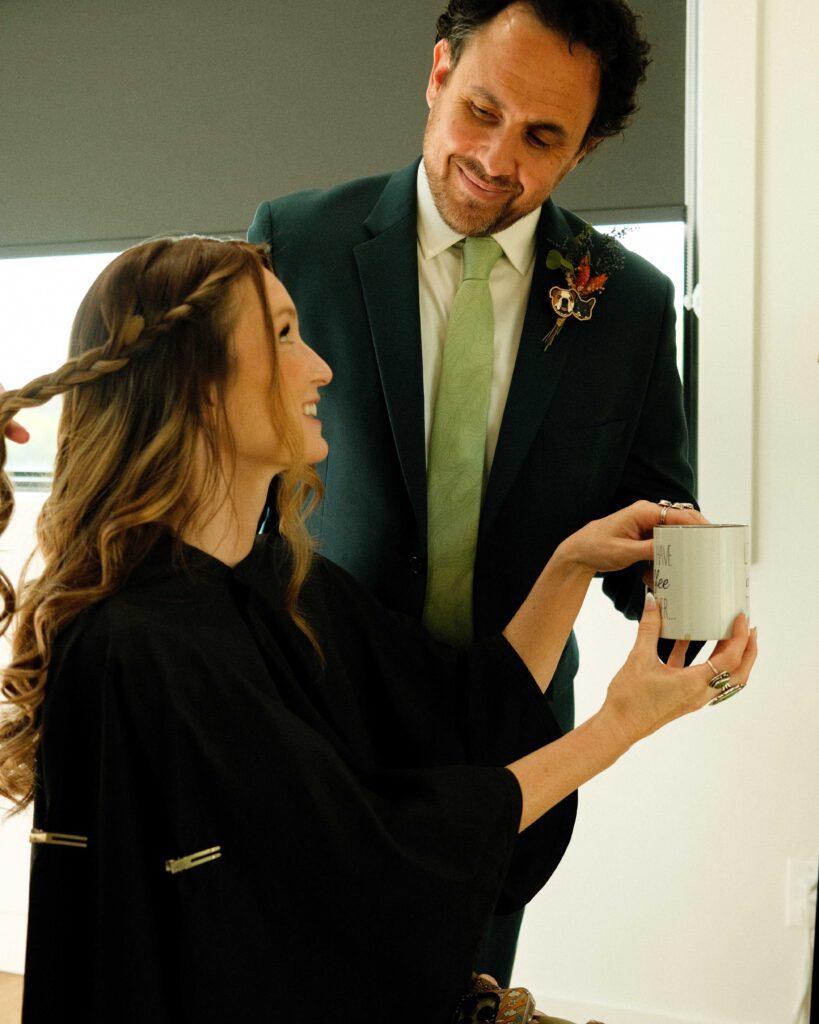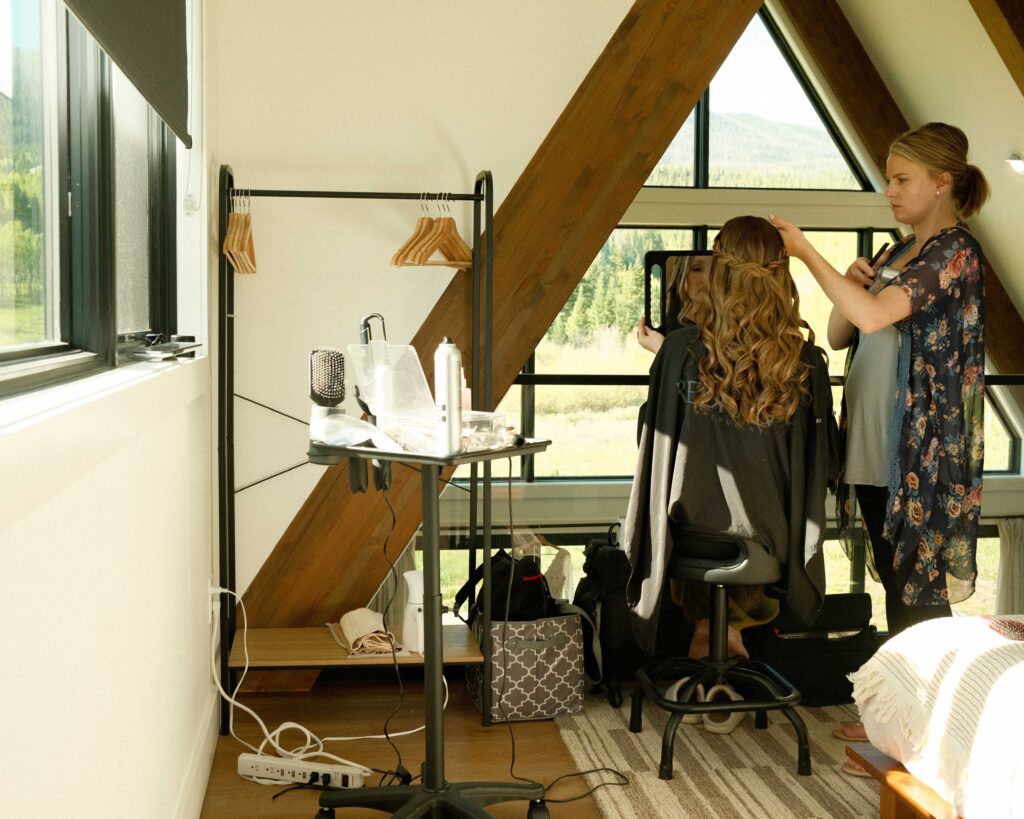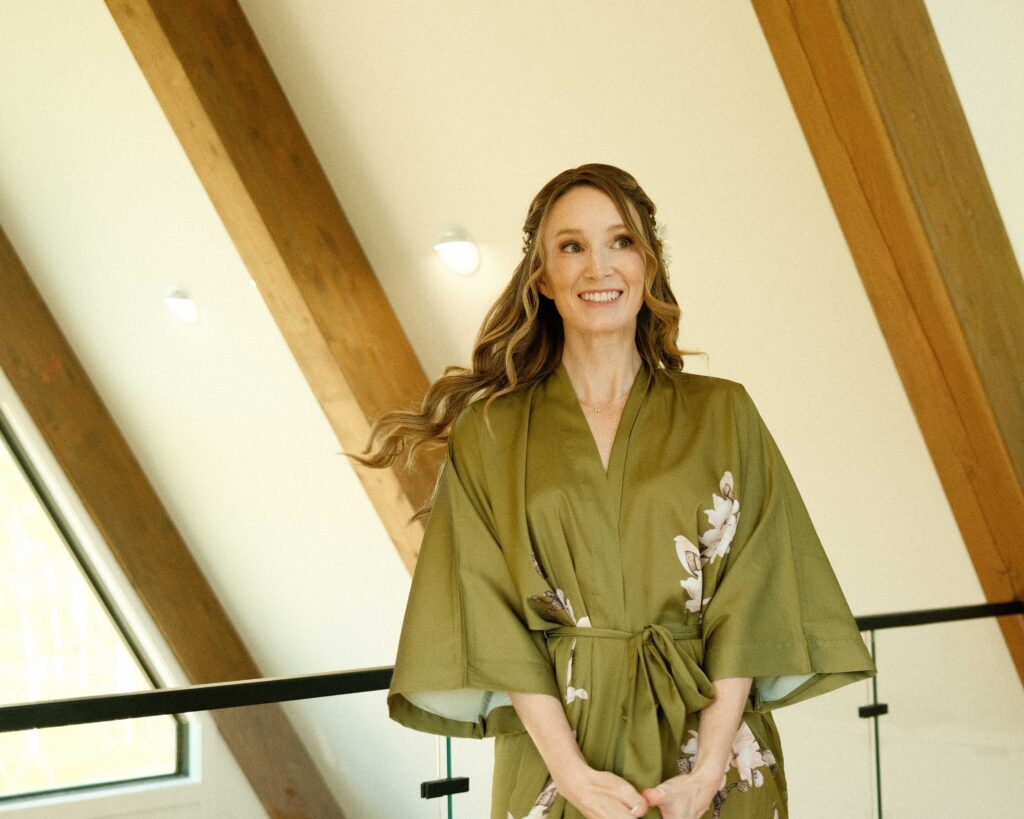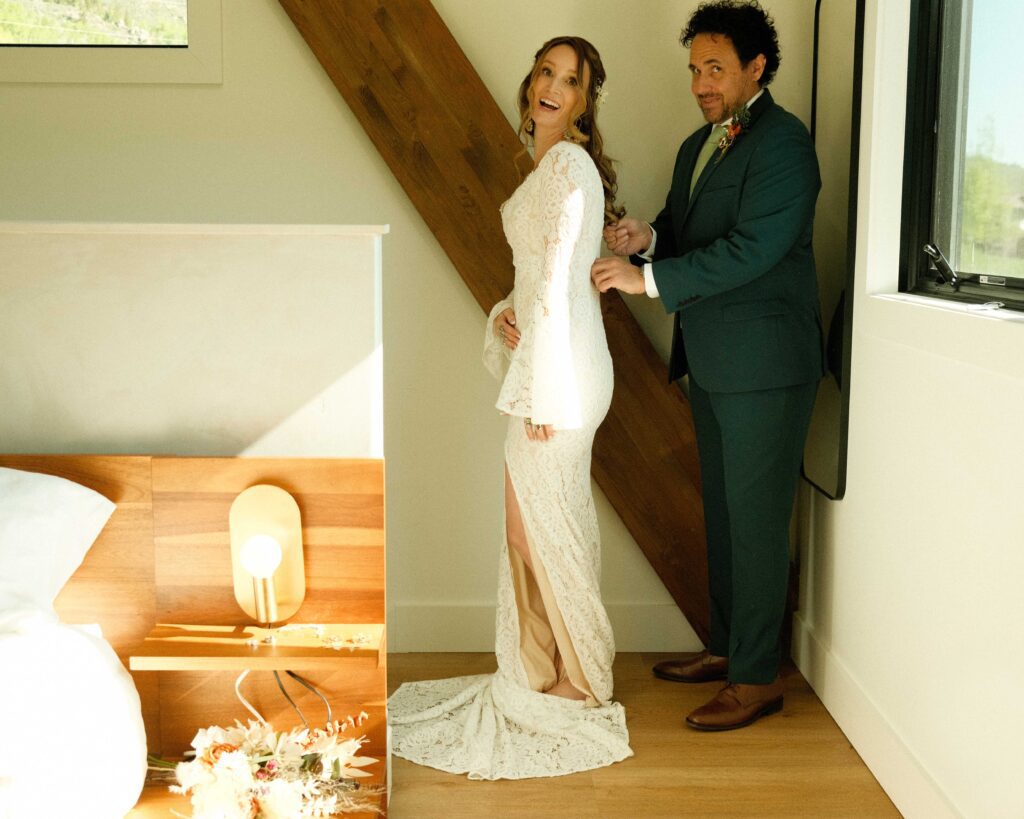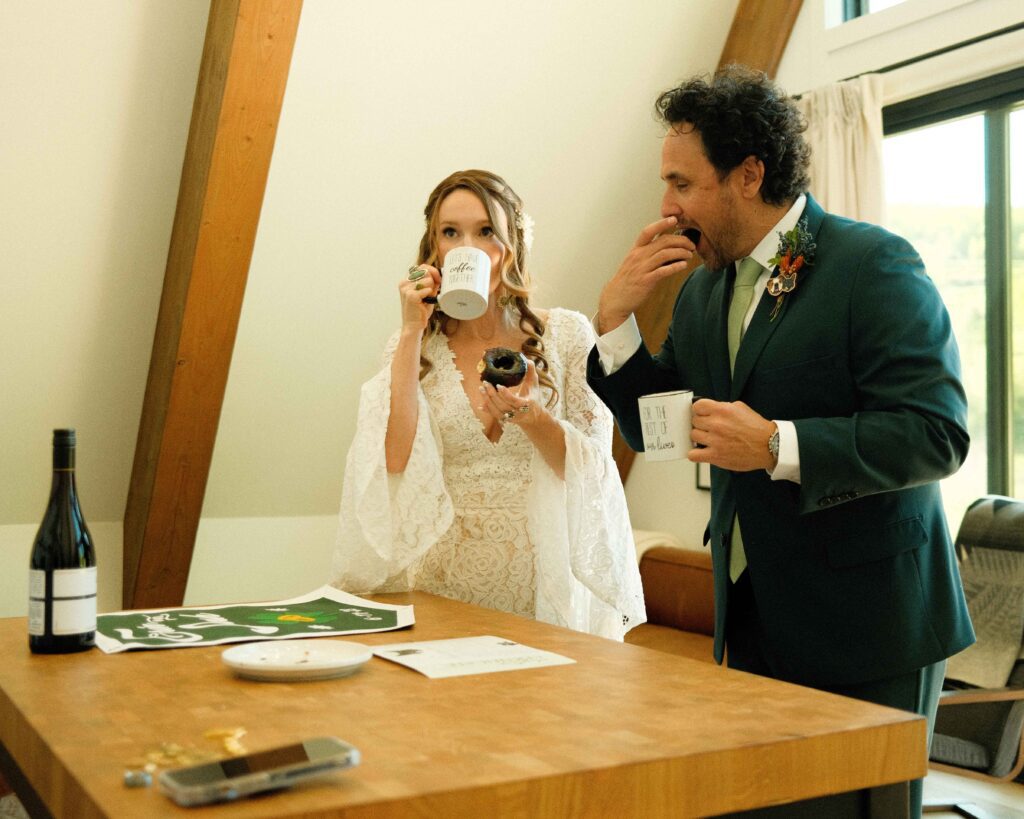 Erin + Josh had so many great little details from their day. Both animal lovers, Josh adopted Erin's cat that morning and they paid tribute to his dog that passed away. They ordered this cute little cake topper with figures of both pets to sit on top of their carrot cake. Josh wore a wooden pin with both of their faces to go with his custom ordered socks. Erin even incorporated paw prints on her nails!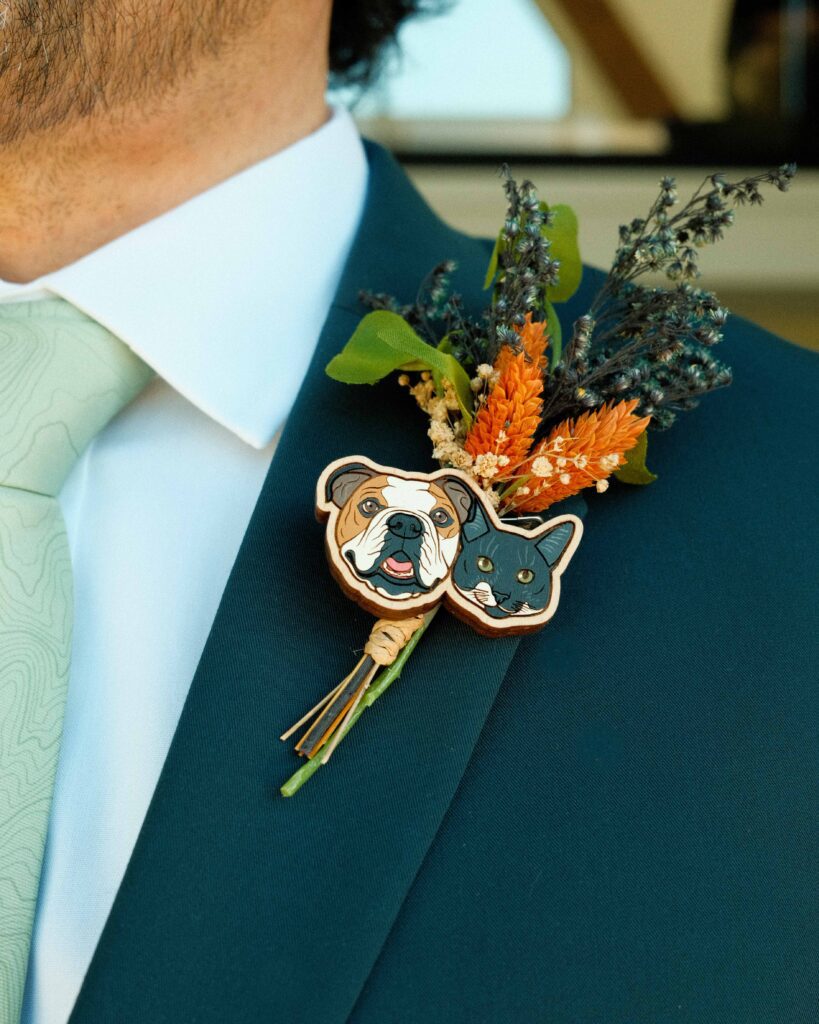 Their song is a beautiful cover of Fade into You by Inhaler; Bono's sons band (Big U2 fans over here!). Erin even got those words custom embroidered on this gorgeous vegan leather jacket by an artist on Etsy. In kismet fashion, the artist and Erin connected through their Irish ancestry. You'll find that Erin + Josh incorporated some Irish traditions into their ceremony paired with vows they wrote themselves.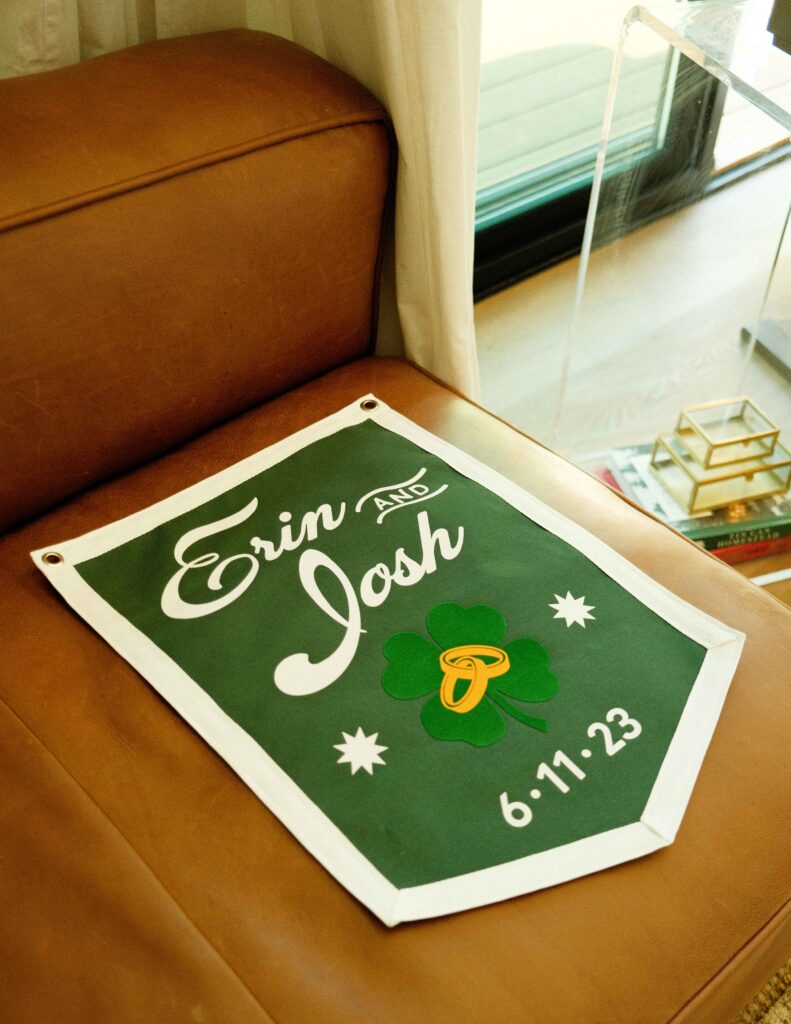 The tie Josh wore was a topographical map of Breckinridge! One of my favorite details from the day as I am obsessed with maps and topo inspired designs.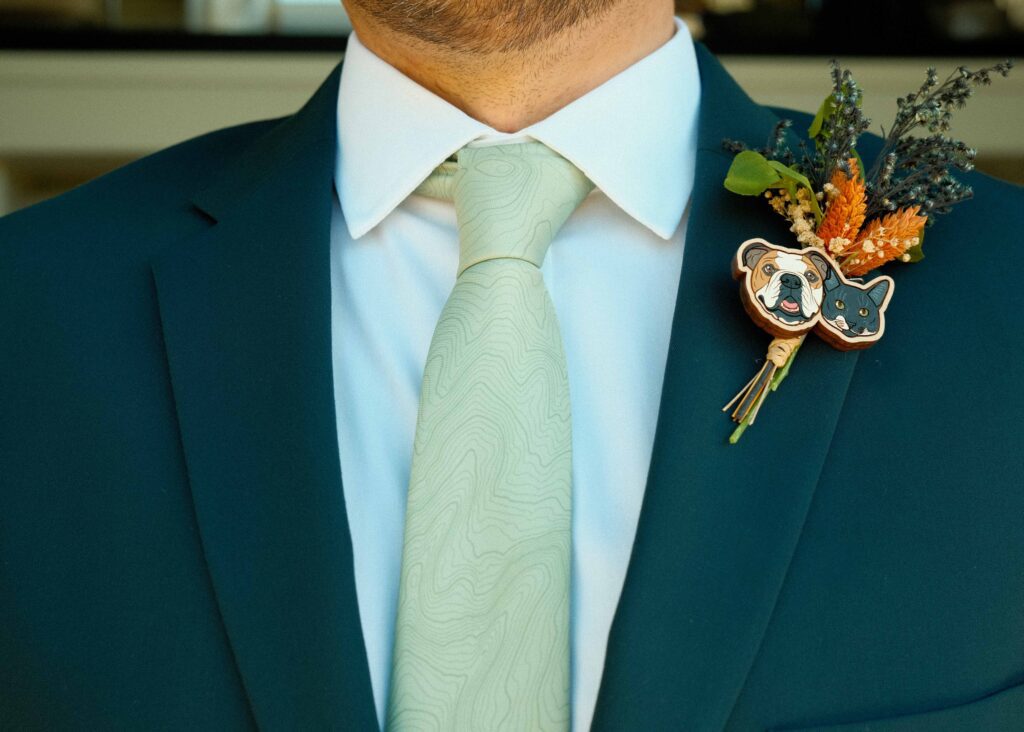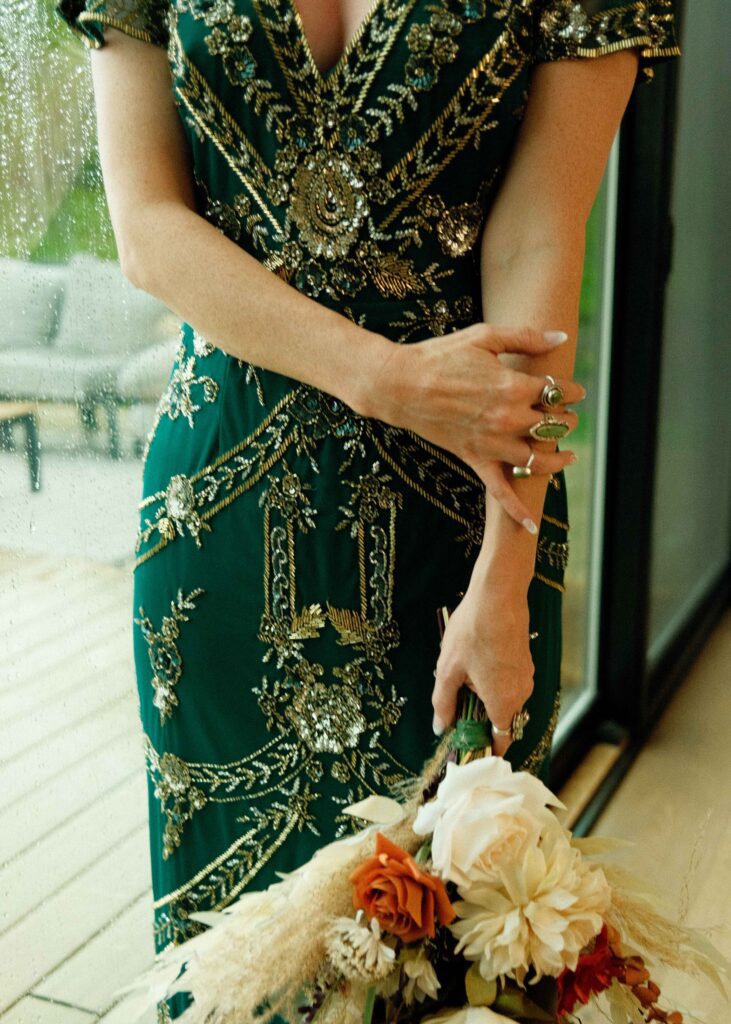 Erin, incredibly, thrifted both of her dresses. Initially, she had purchased the green one to wear all day as part of her Irish inspired fit. The detailing of the beads on her dress was incredible and caught the light magnificently. The thrift gods shown their light upon Erin and she found a second wedding dress for $70. The lace bell sleeves gave of some serious Stevie Nicks vibes.
Once they got dressed, we went out onto the porch for the songs they wanted to start their day with. They began with Fade into You for some a slower intimate time and then transitioned to Everywhere by Fleetwood Mac. For their last song, they grooved to Lonely Trip by Trey Anastasio. The lyrics sing, "And if by chance our vessels pass, perhaps we'll meet at last". And those words were burned onto wooden coins attached to their rope for the hand fasting ceremony.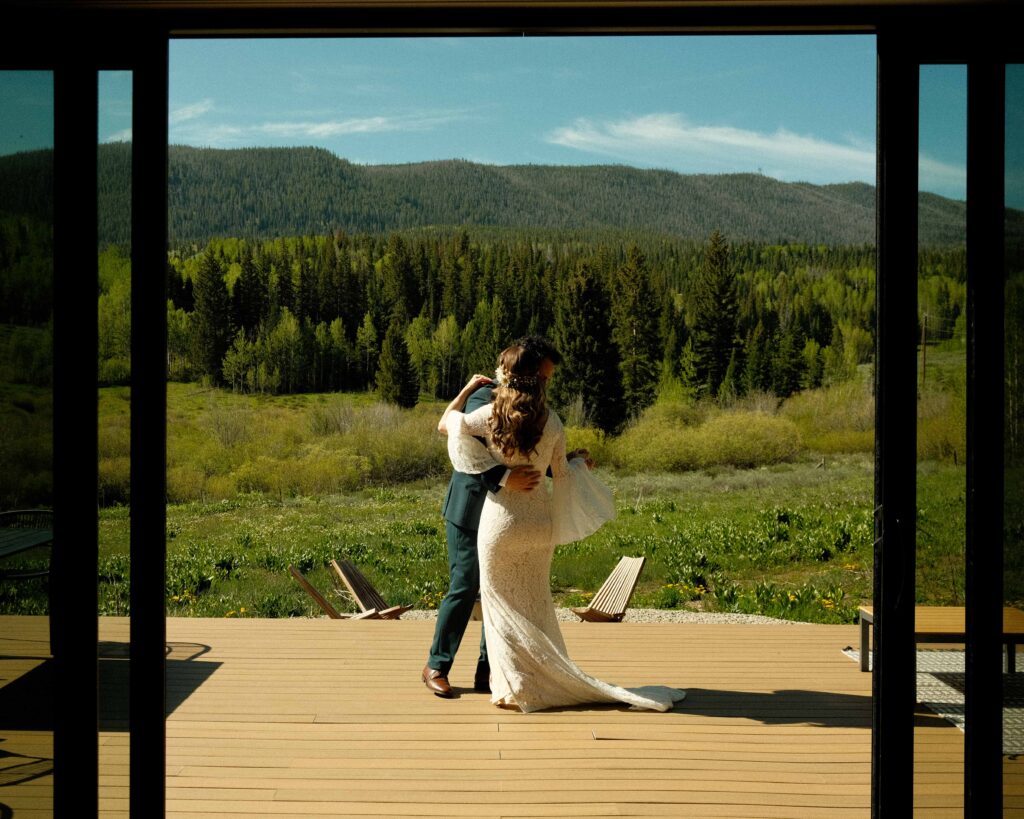 They trail that we settled on for their day was the Blue Lakes trail by Hoosier pass. We parked at the lower trailhead and all hopped into one car to head up together. There weren't too many people around as we headed up to the upper lake that leads to Quandry Peak. No one was up there with us except the cutest heard of mountain goats! They joined us as witnesses and while we tried to keep our distance, they were interested in checking us out. I think these goats might've been fed before by other humans that weren't aware of the impact of feeding wild animals. Regardless, it was a dream of theirs to see some wild life around on their day.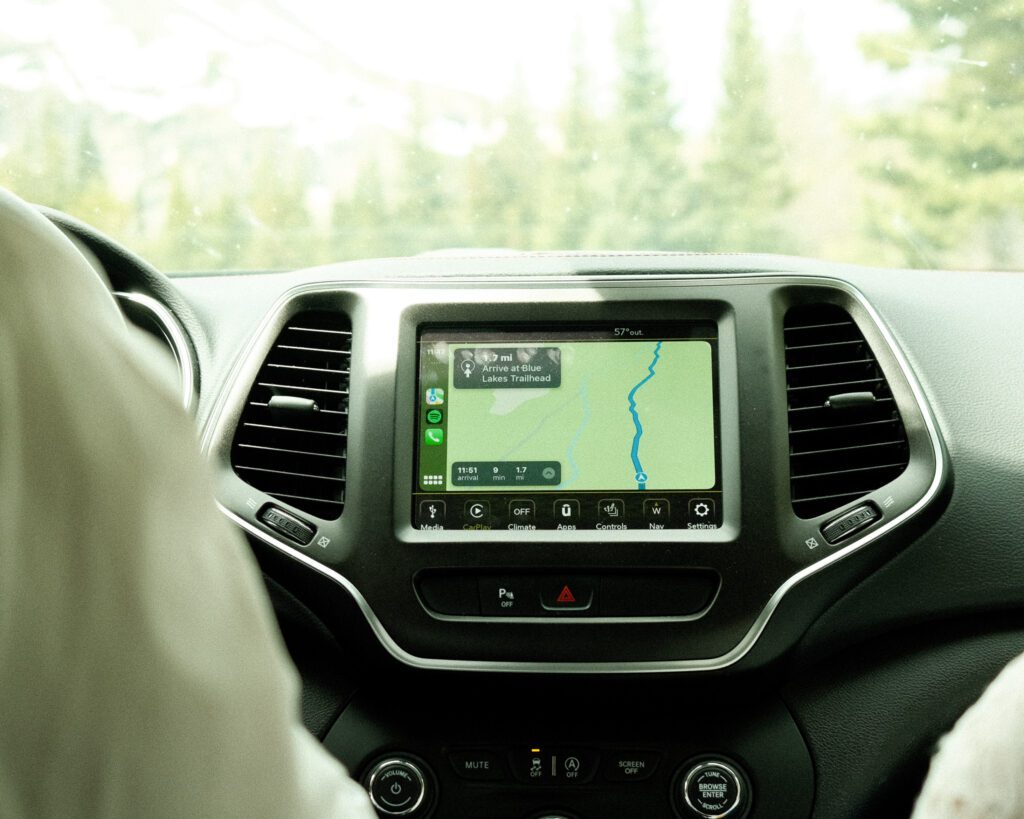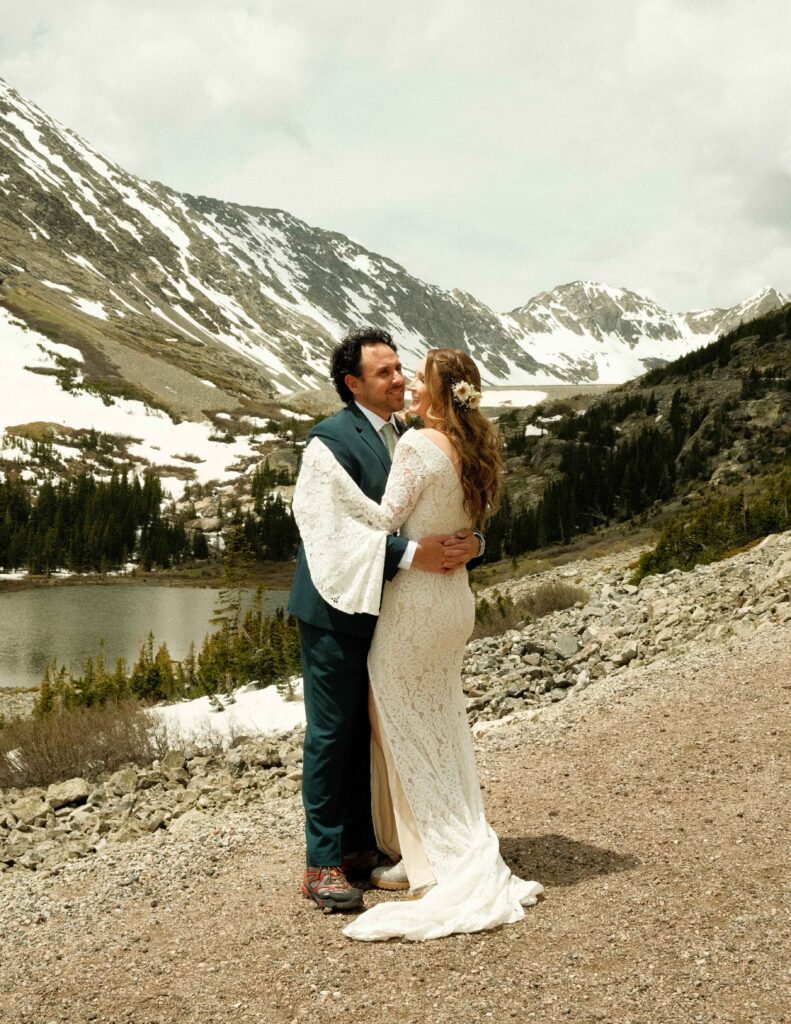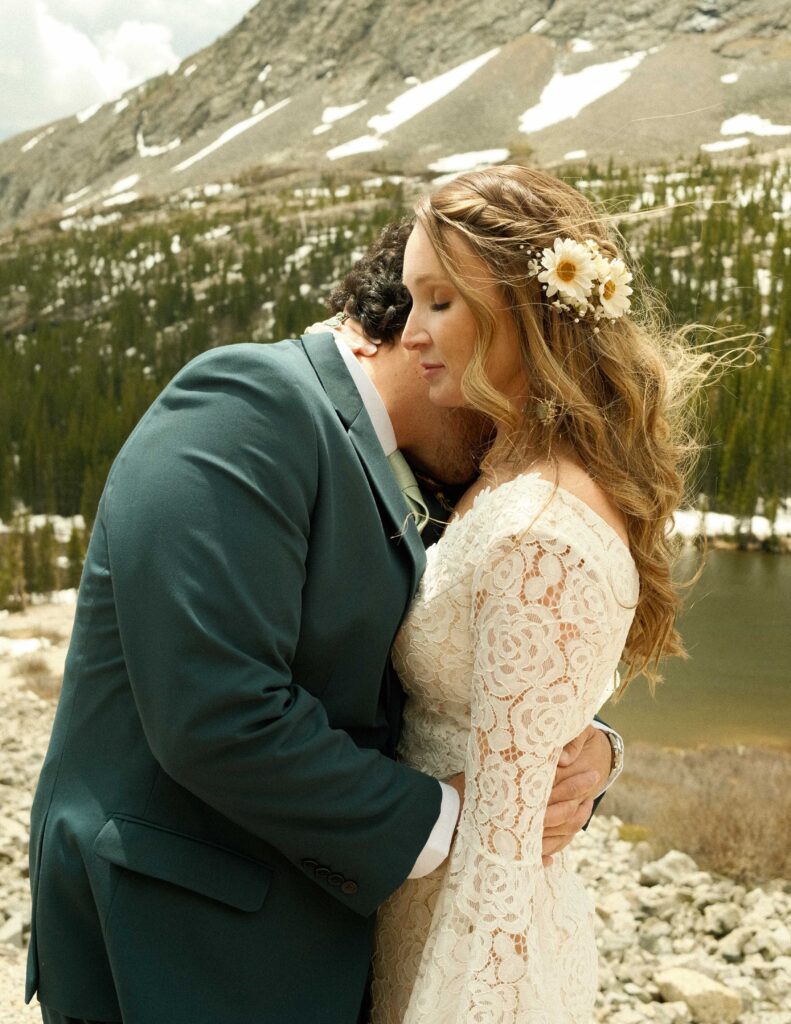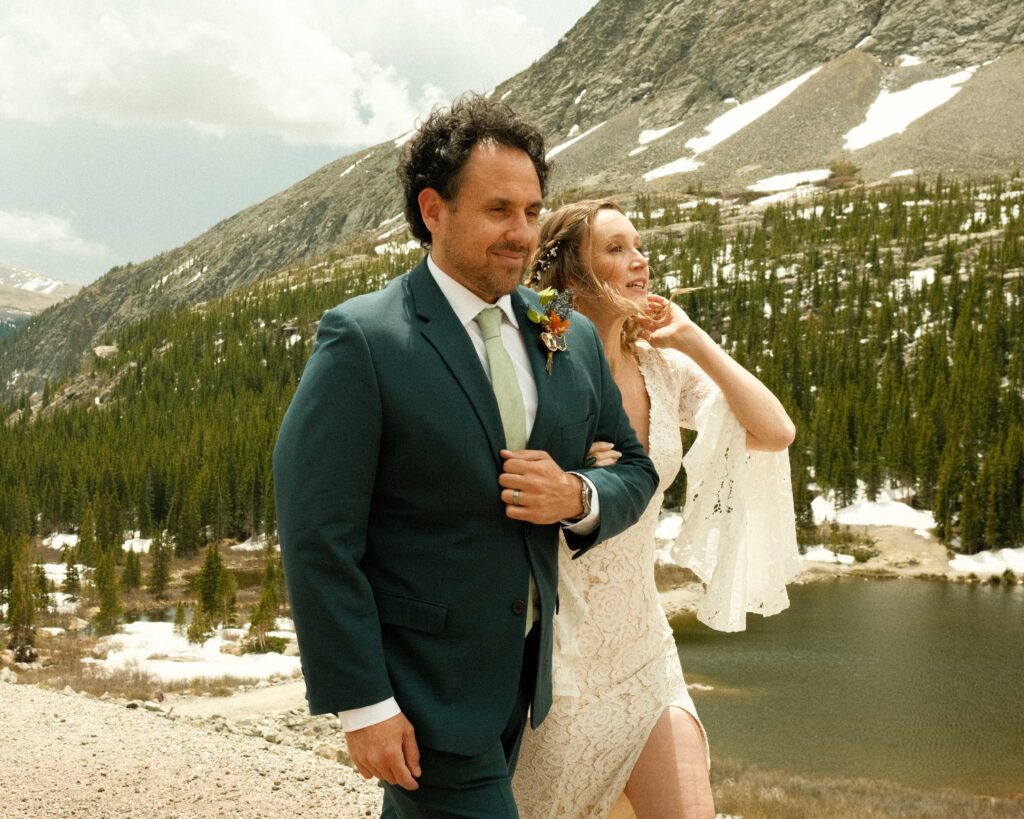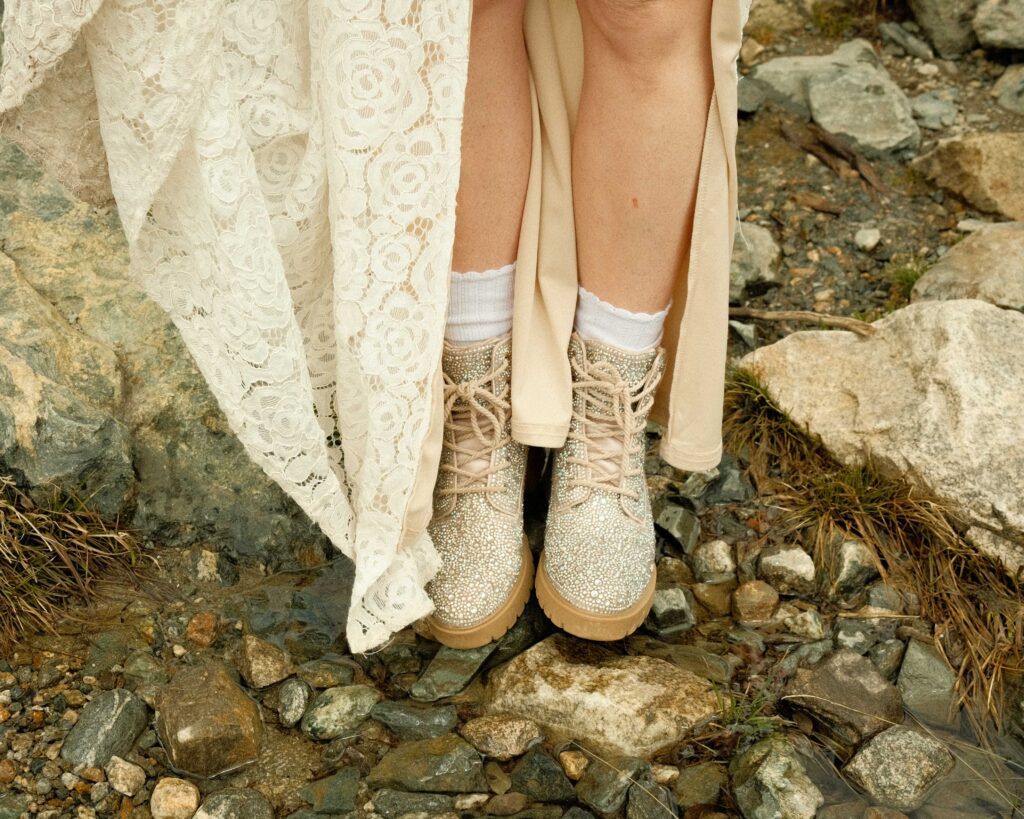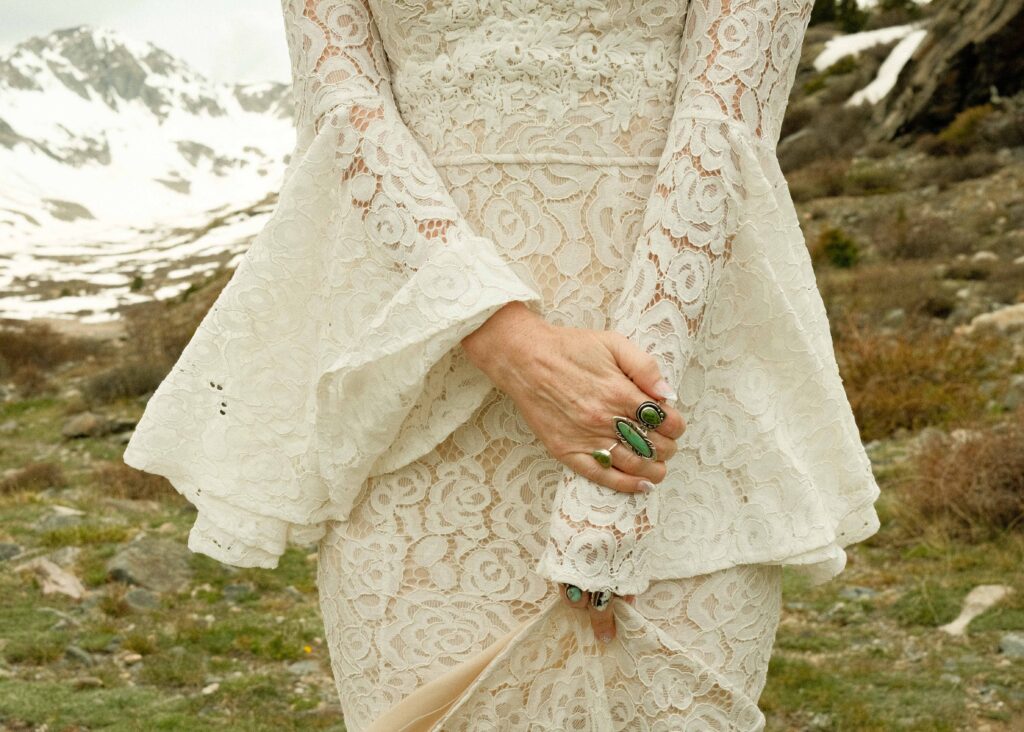 Can you believe that Erin's flowers were not real?! This was my first time shooting faux flowers and they definitely looked so much better than anticipated. Those of y'all looking to get some faux flowers that'll last and be easier on the budget, I highly recommend!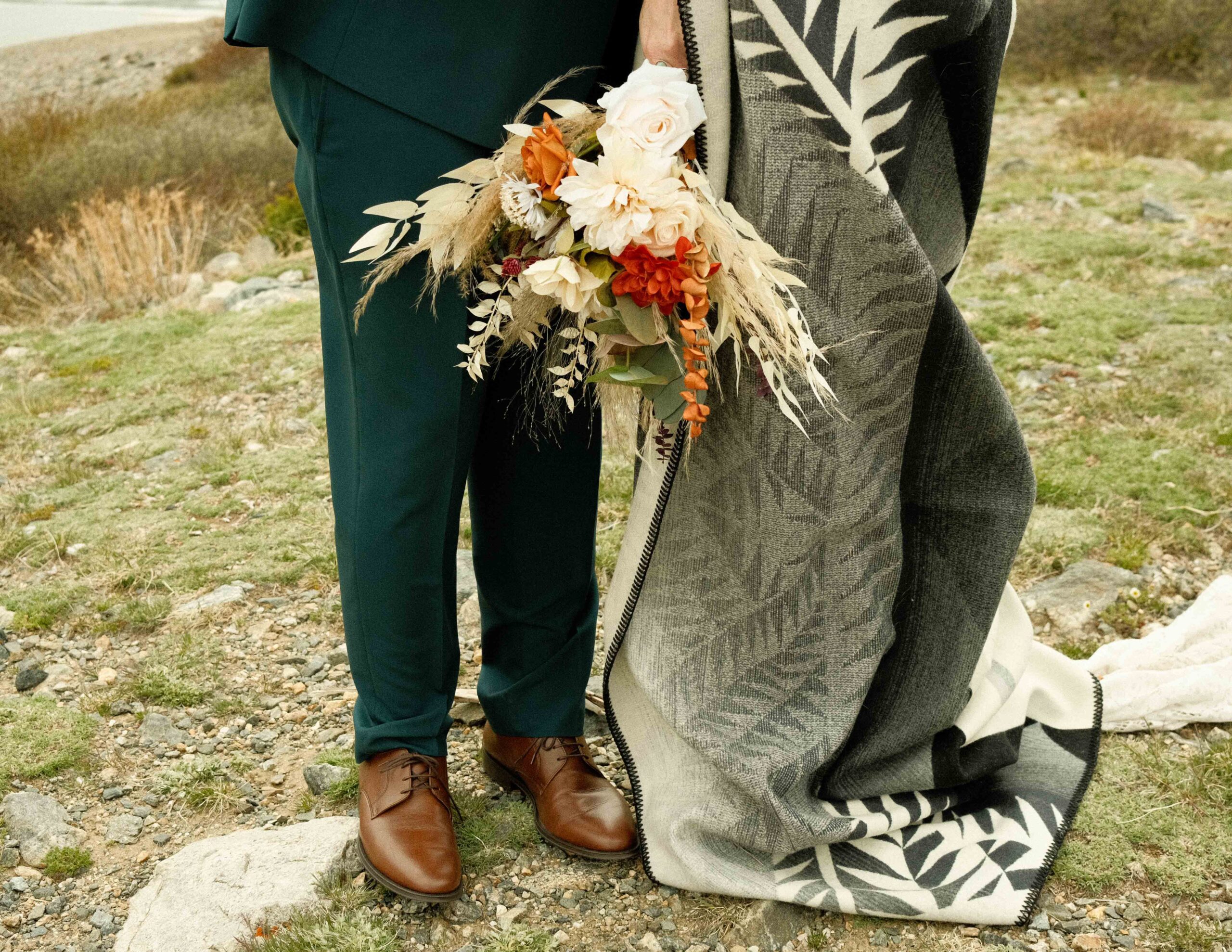 Their ceremony at the upper Blue Lake was chillyyyyy. Cloud coverage for the most part, definitely windy at times, and a few sunny moments! Which definitely helped warm us up. They did so well with the changes in temperature and environment. Honestly, really glad we didn't get dumped on because we definitely forgot our umbrellas. The multiple blankets we brought helped, too!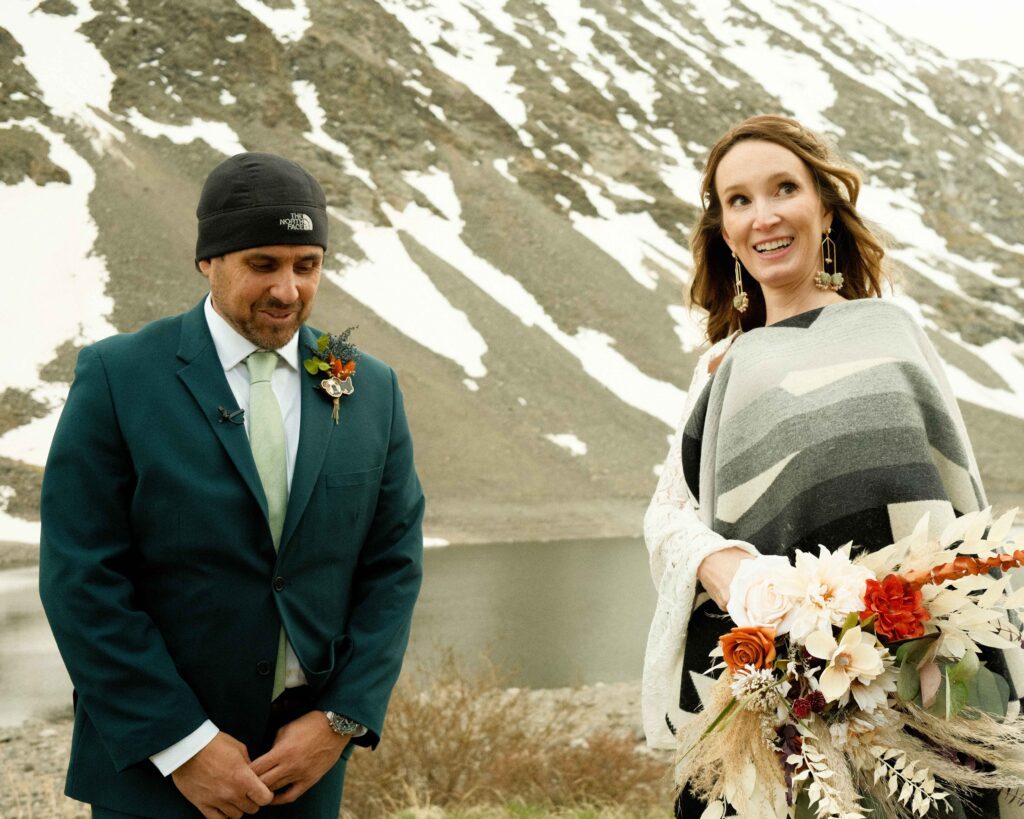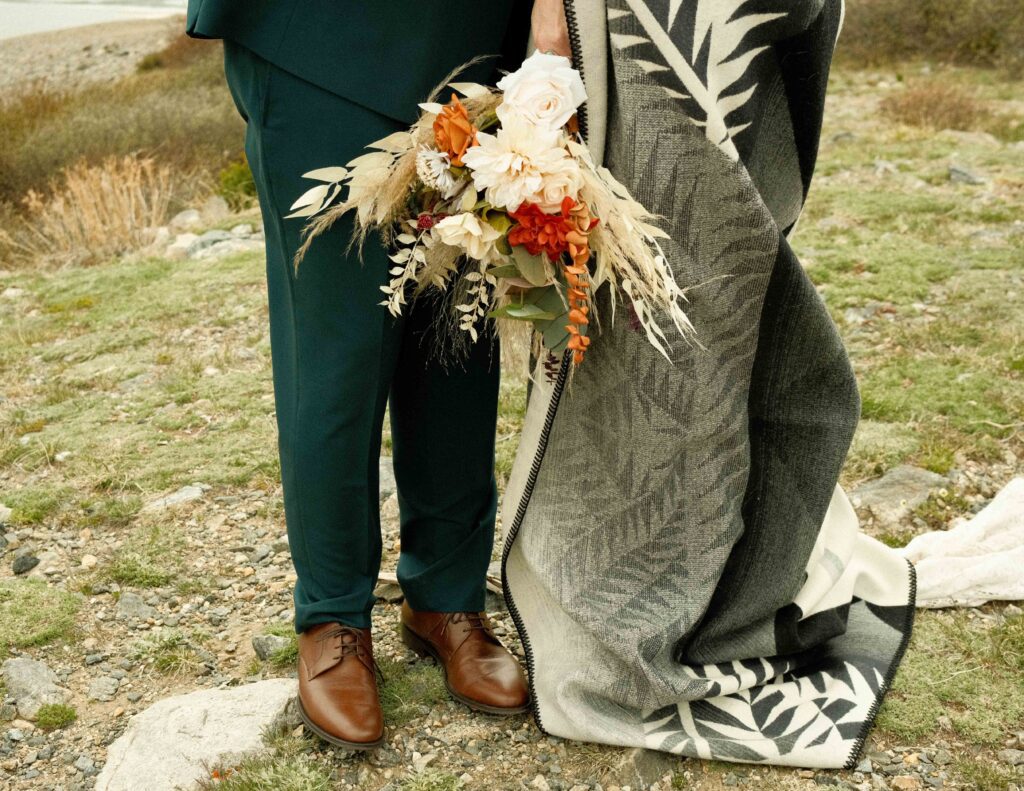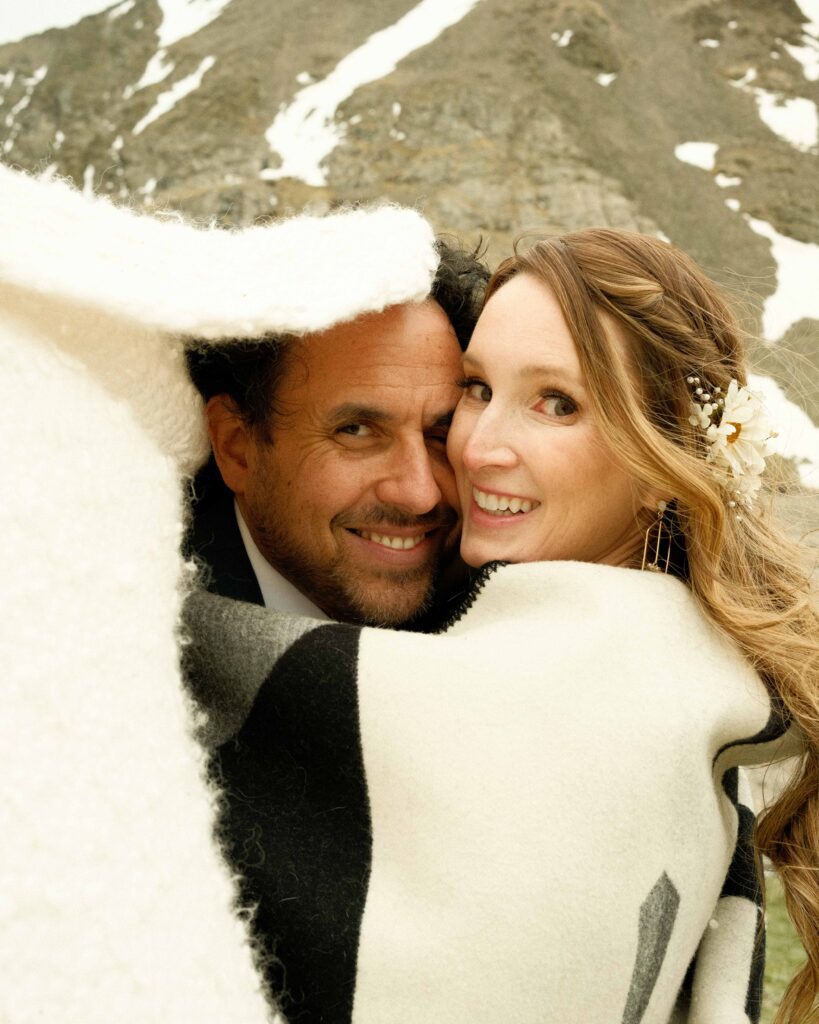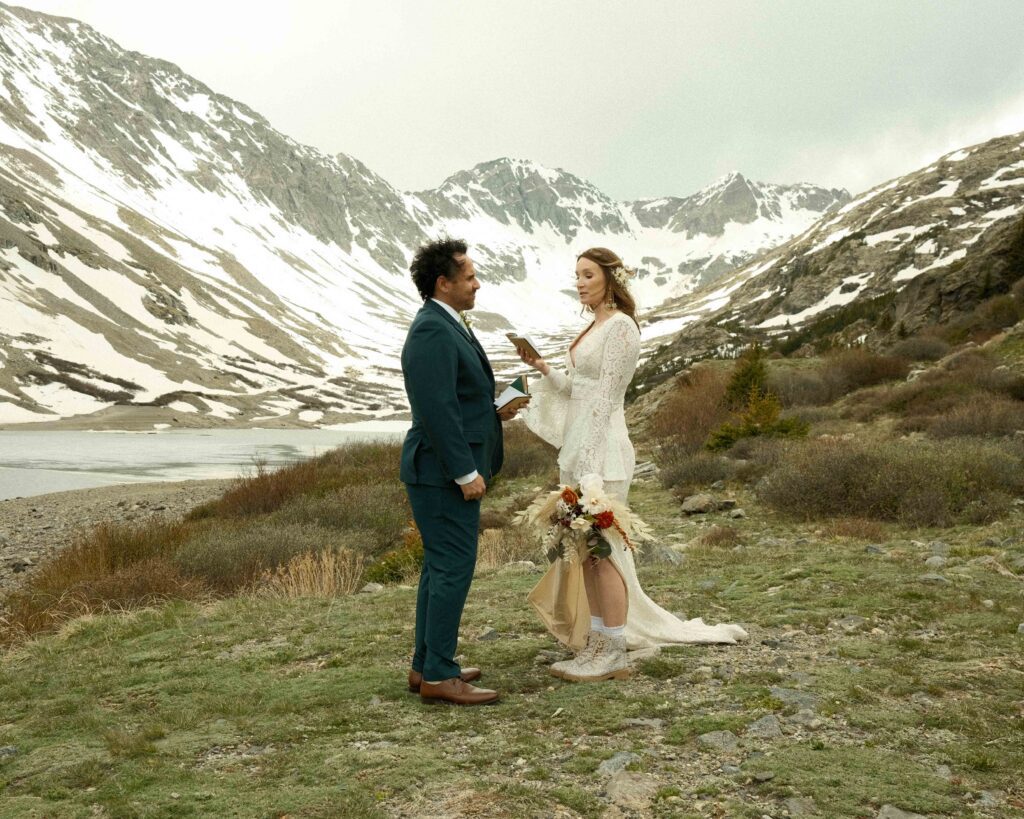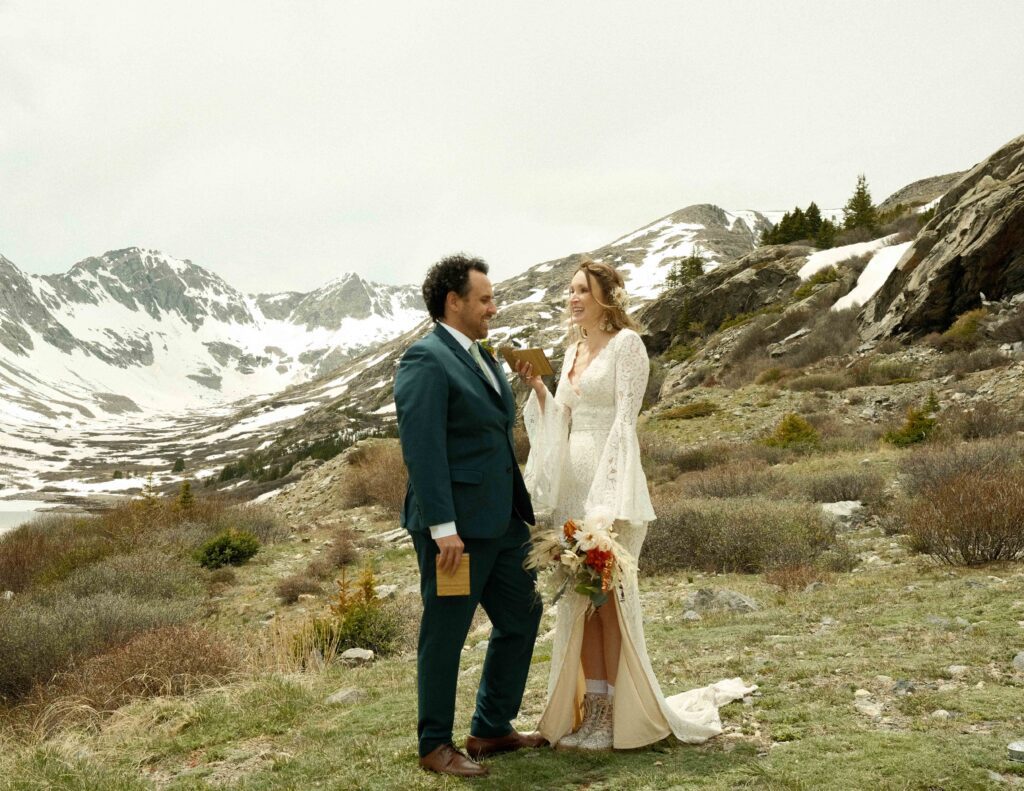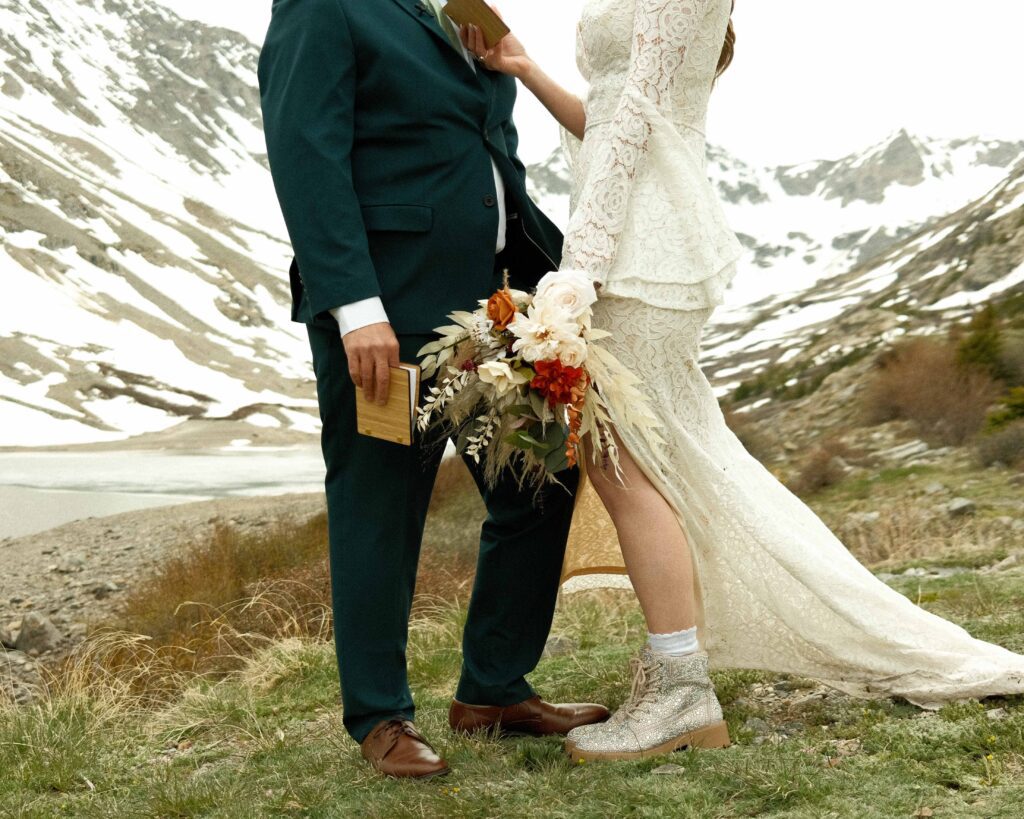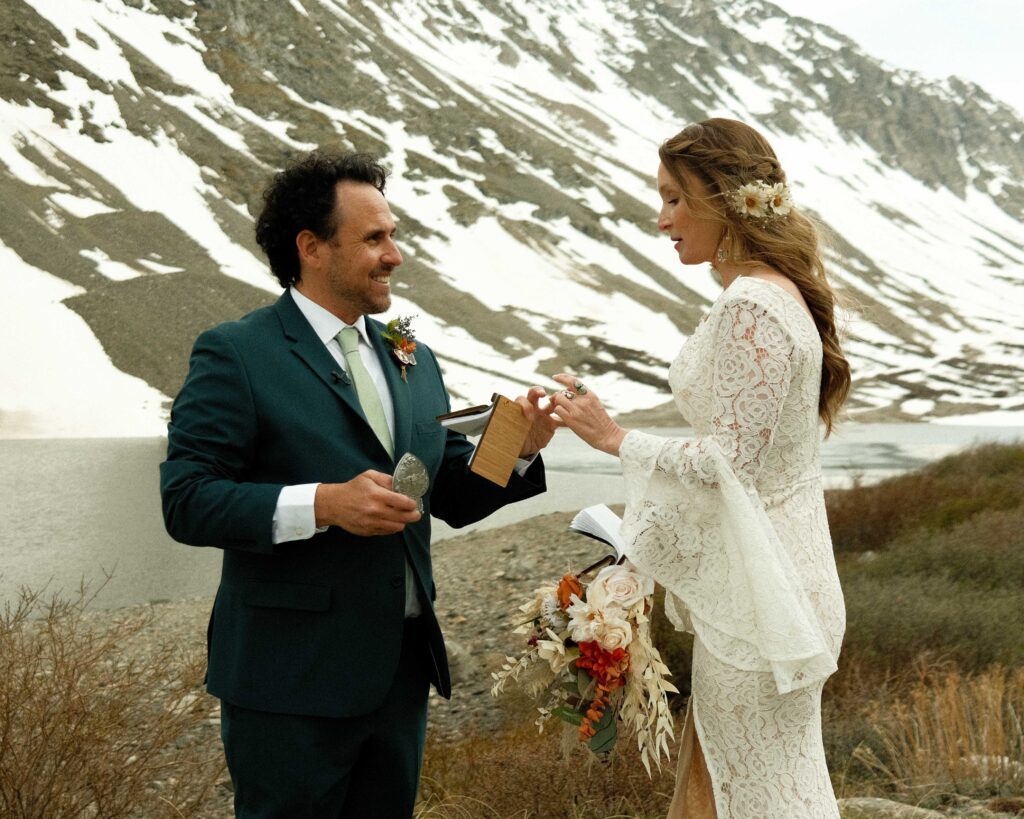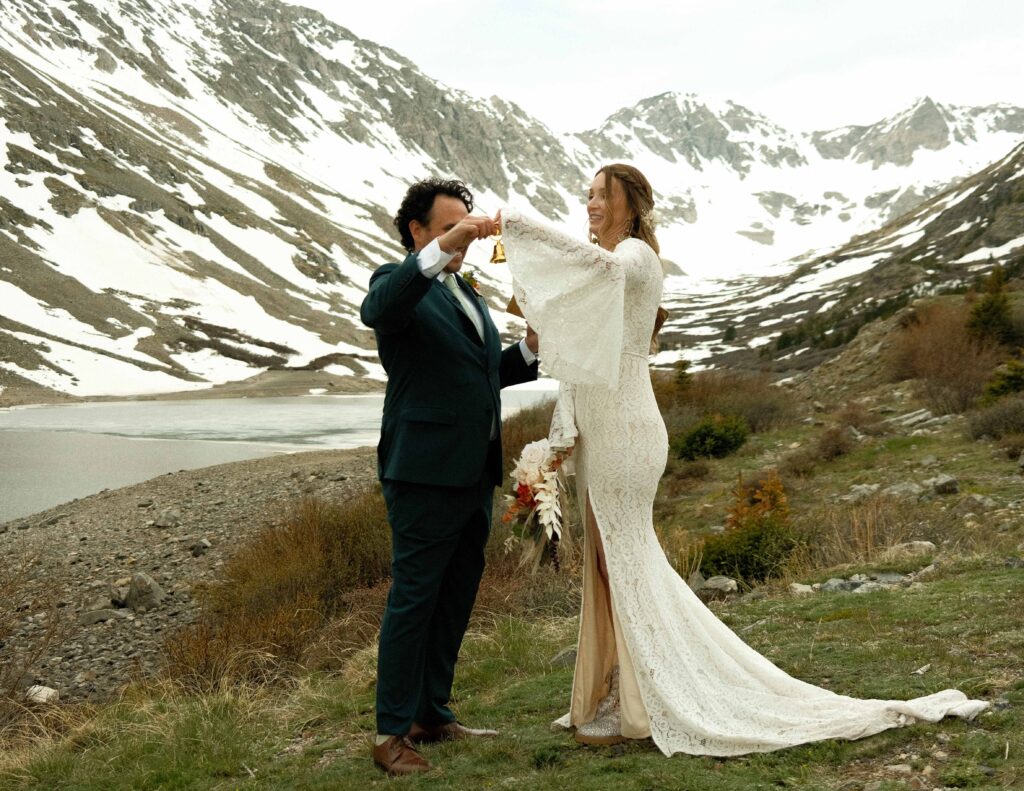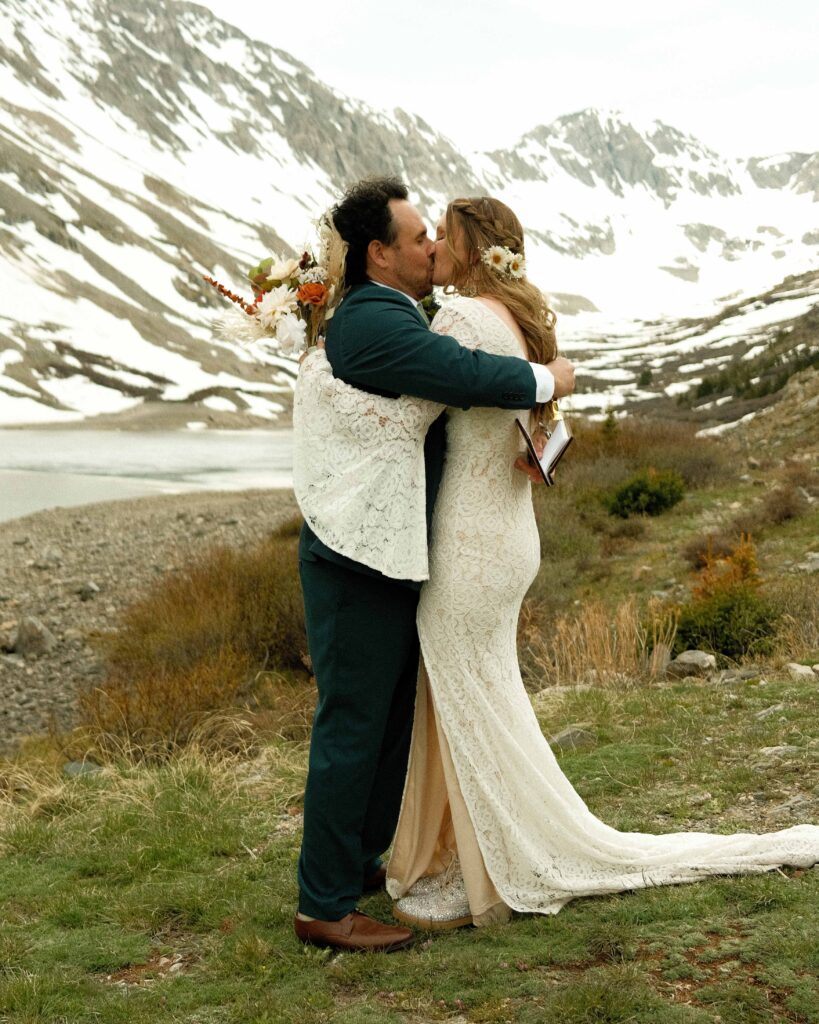 There were about 15 different mountain goats that gathered around overlooking blue lake. It was such a special experience to have. We were glad that we had some time to just hang out with them before we headed back! We got to the car just as it starting sleeting.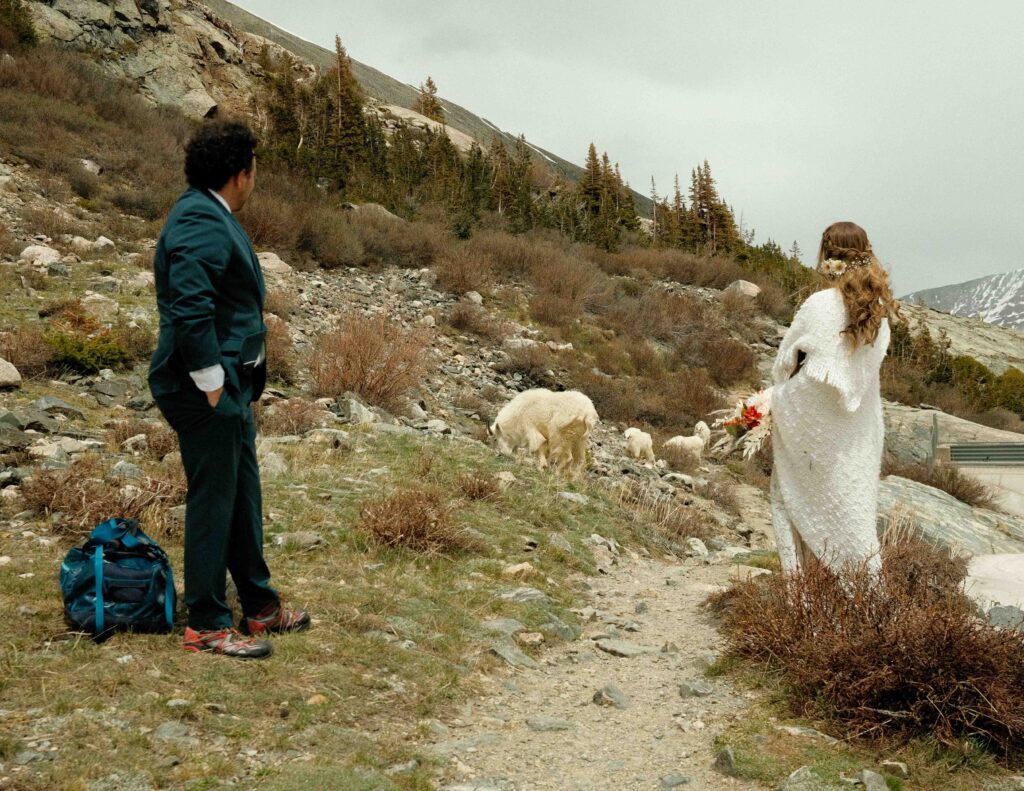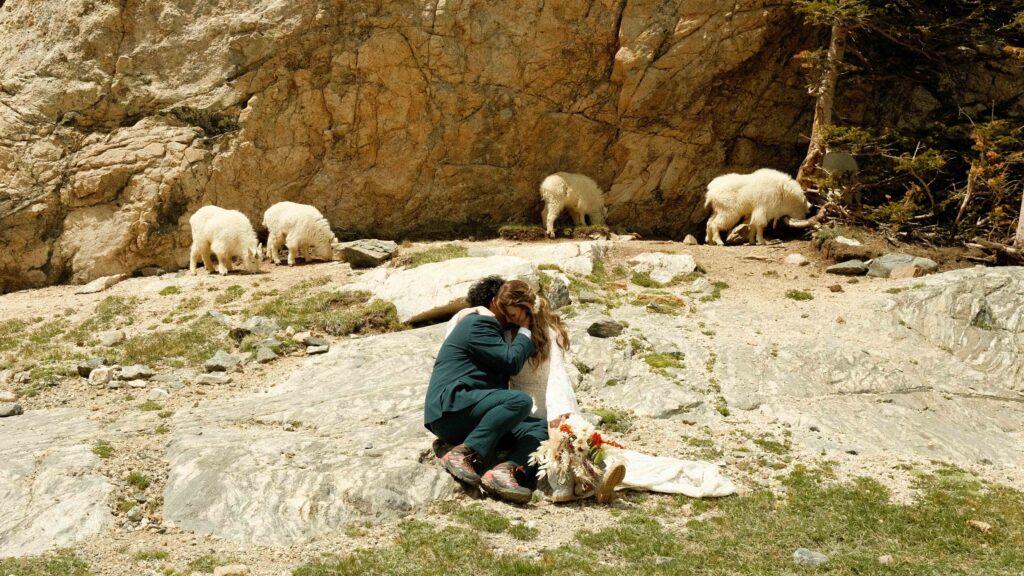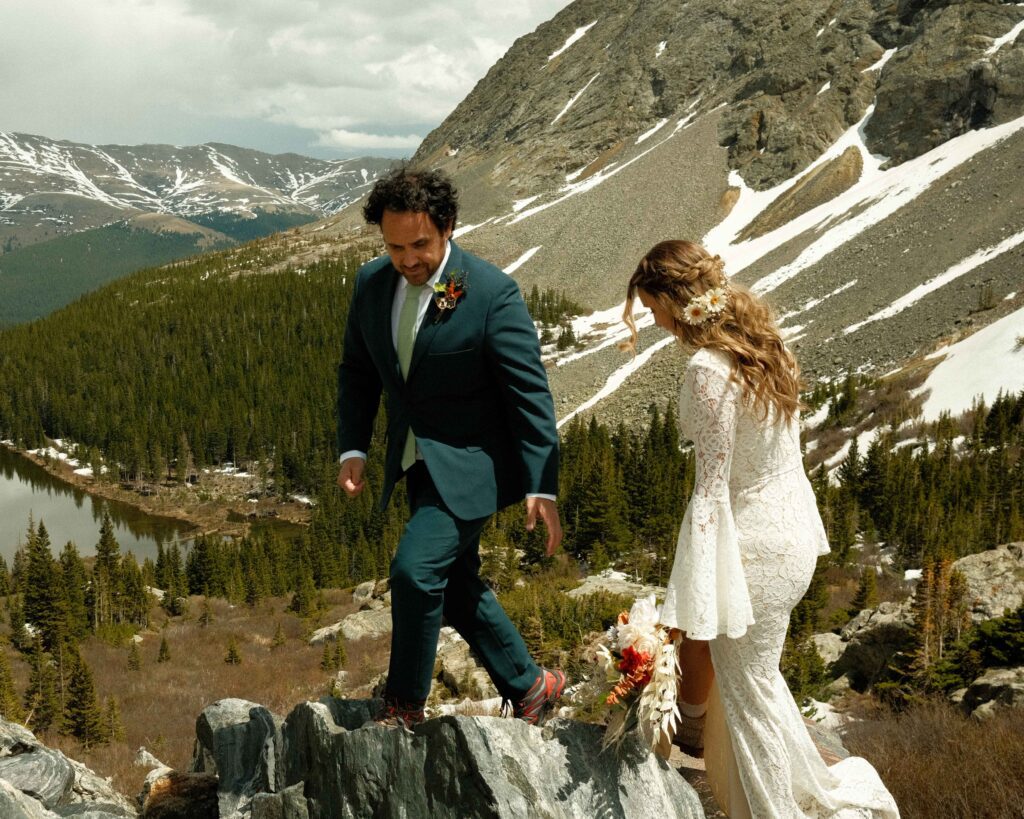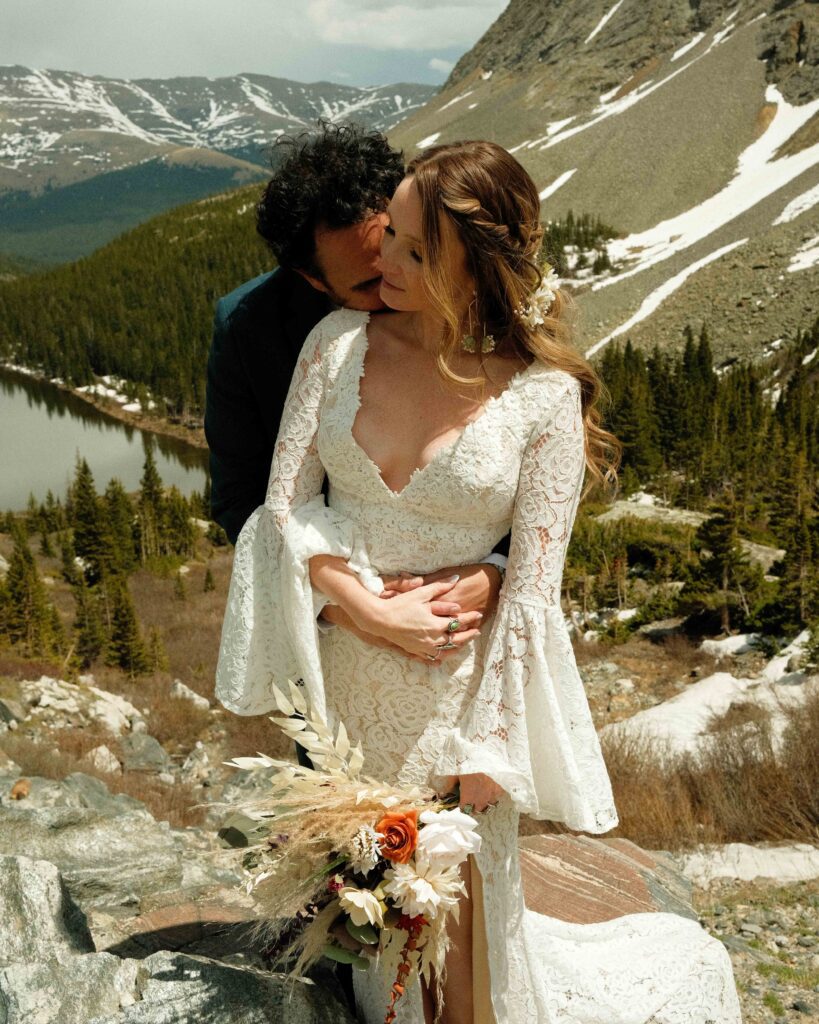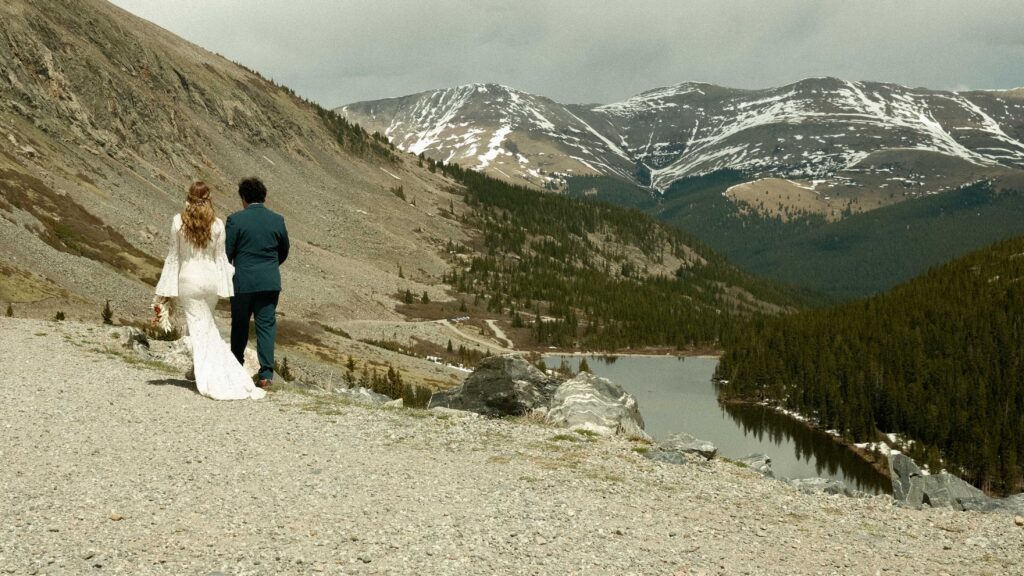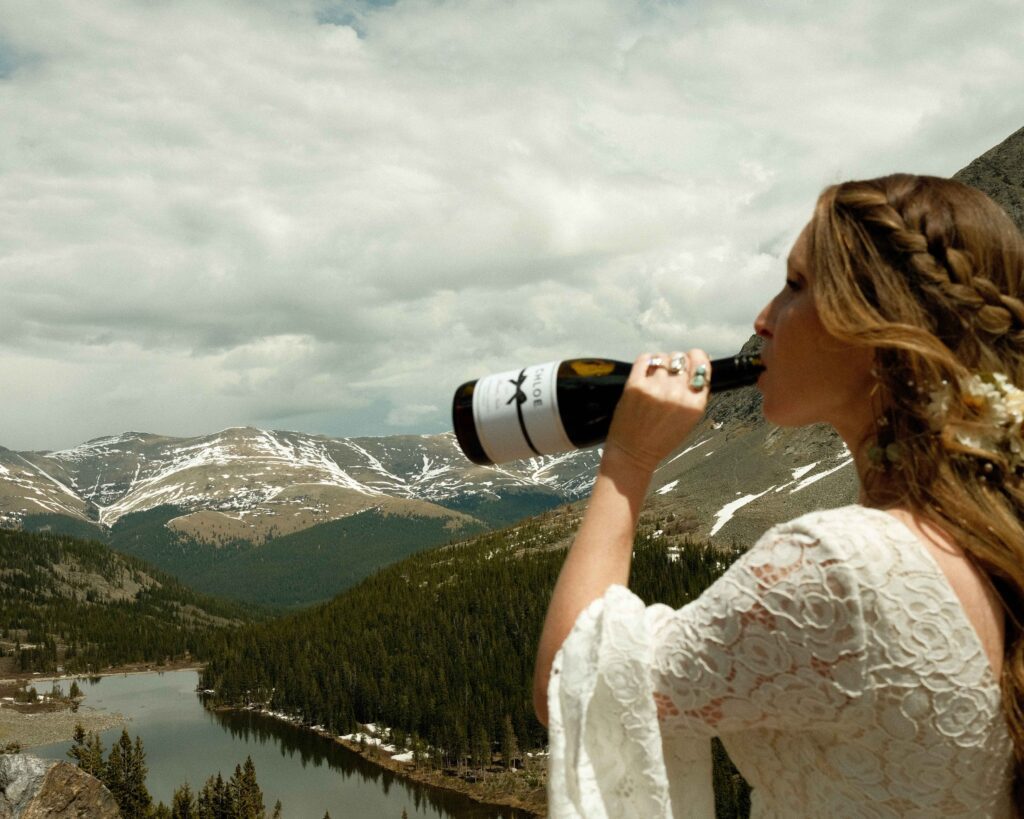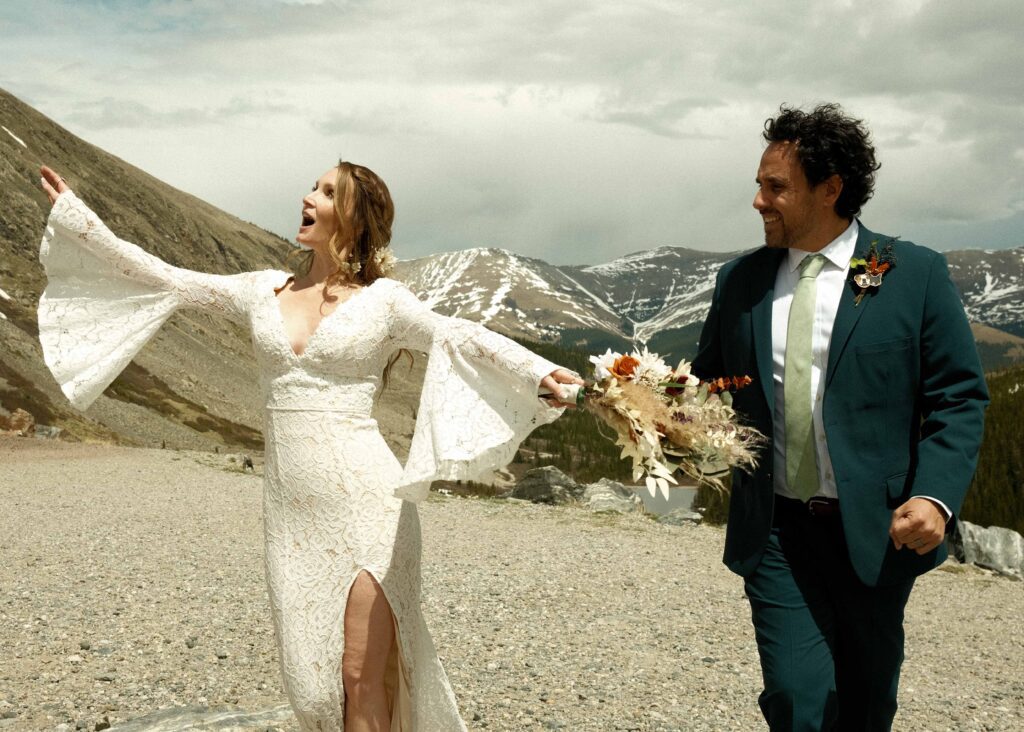 I got to the airbnb first and cleaned up while they ran an errand. It poured for a good 30 minutes in Kremmling and thankfully it subsided by the time Erin and Josh arrived! Eloping in Colorado means adapting to quick weather changes. Erin changed into her green embroidered dress while Josh brought in the goods. The goods being the vegan pizza from Piante and the carrot cake from Clint's Bakery.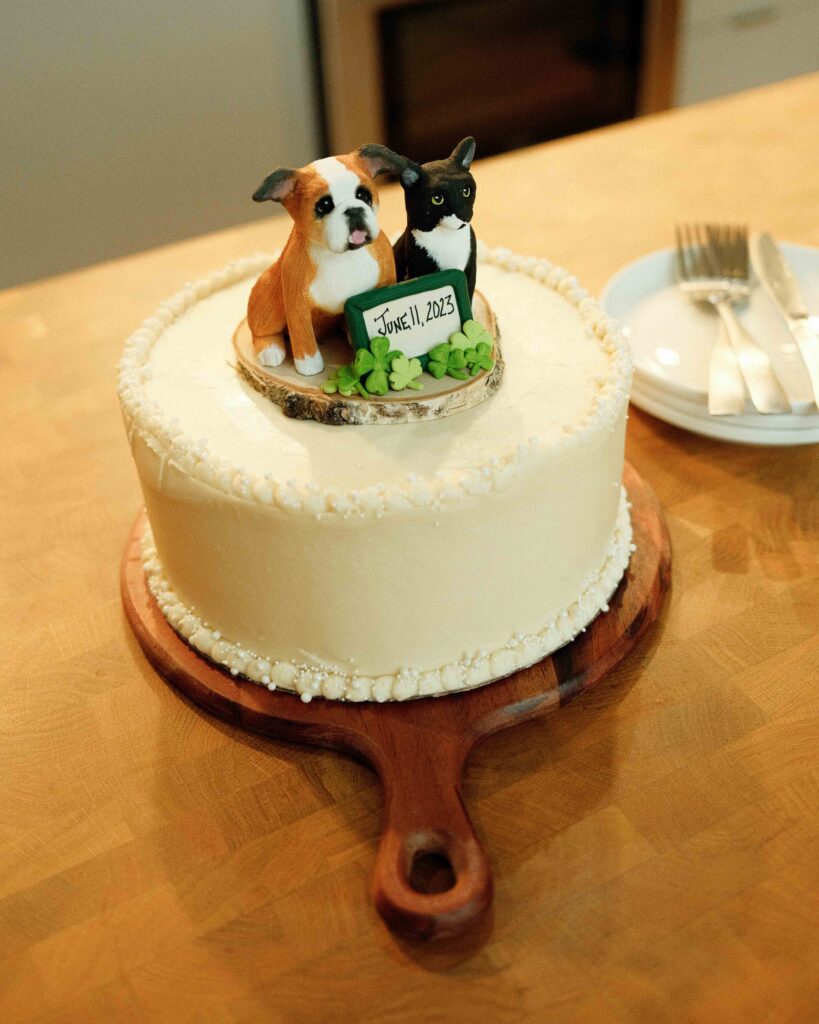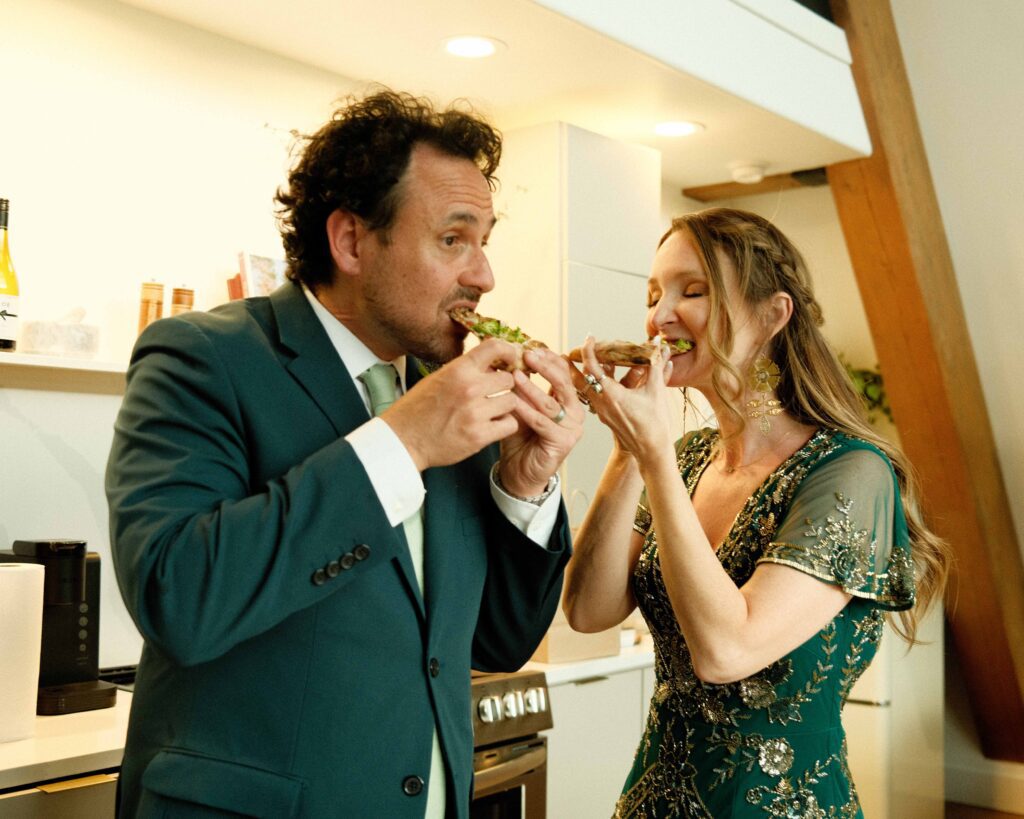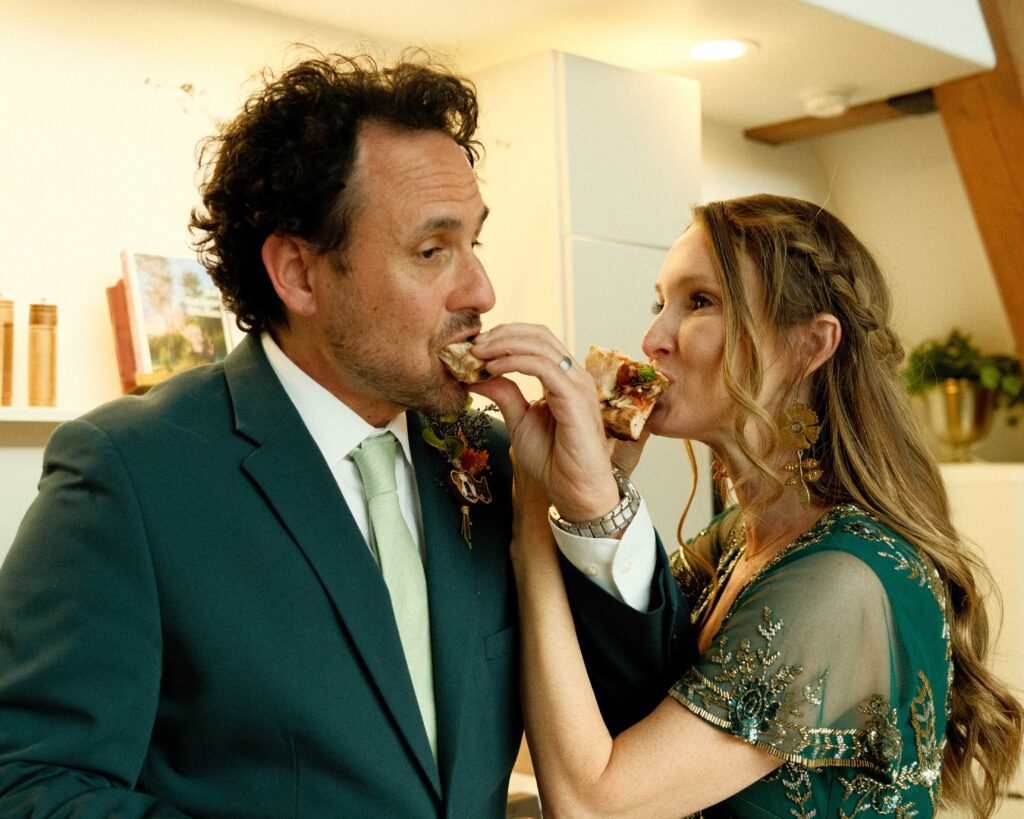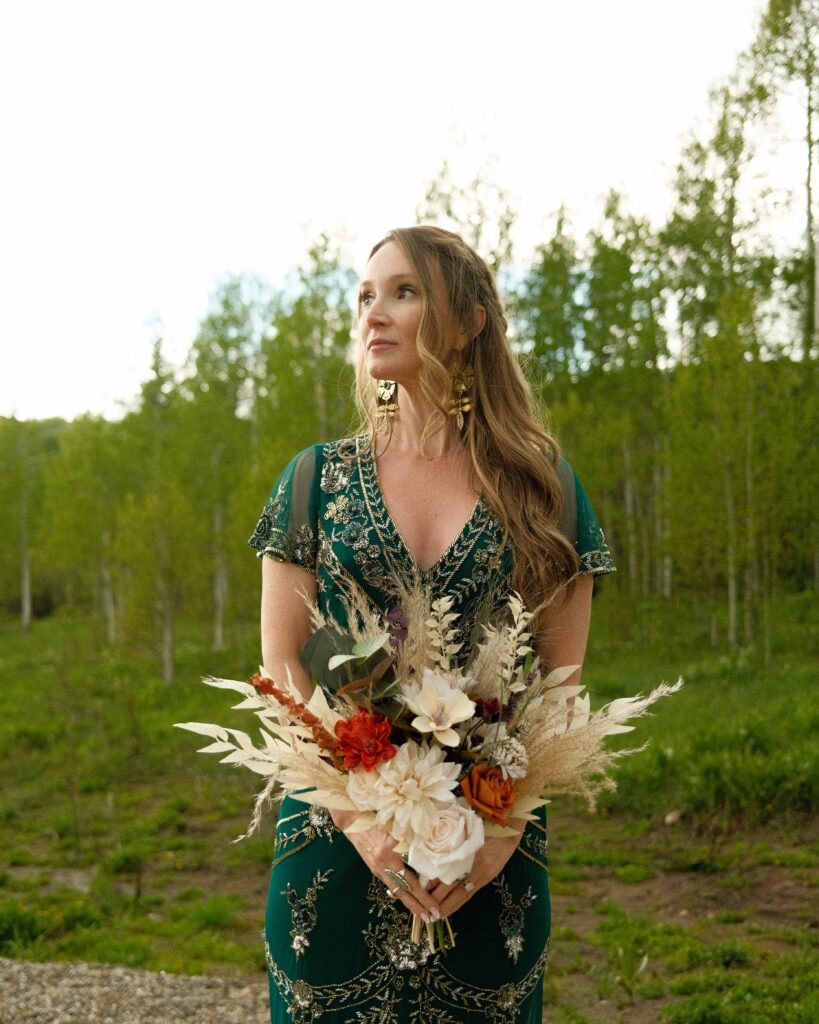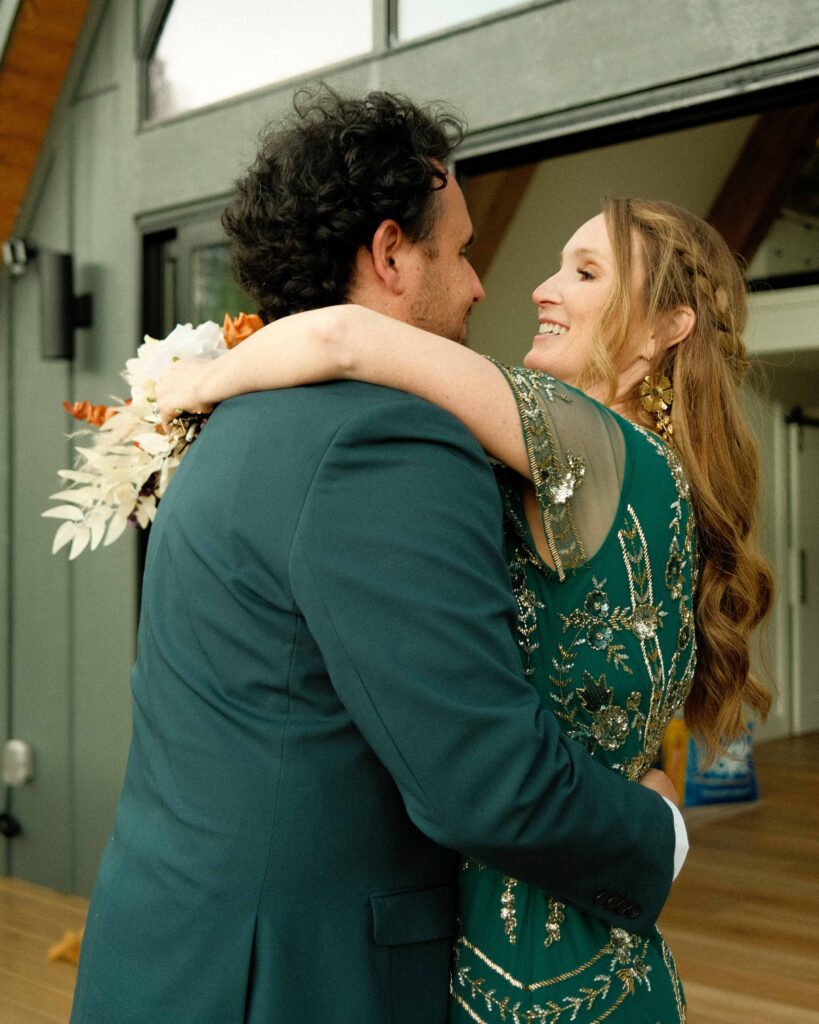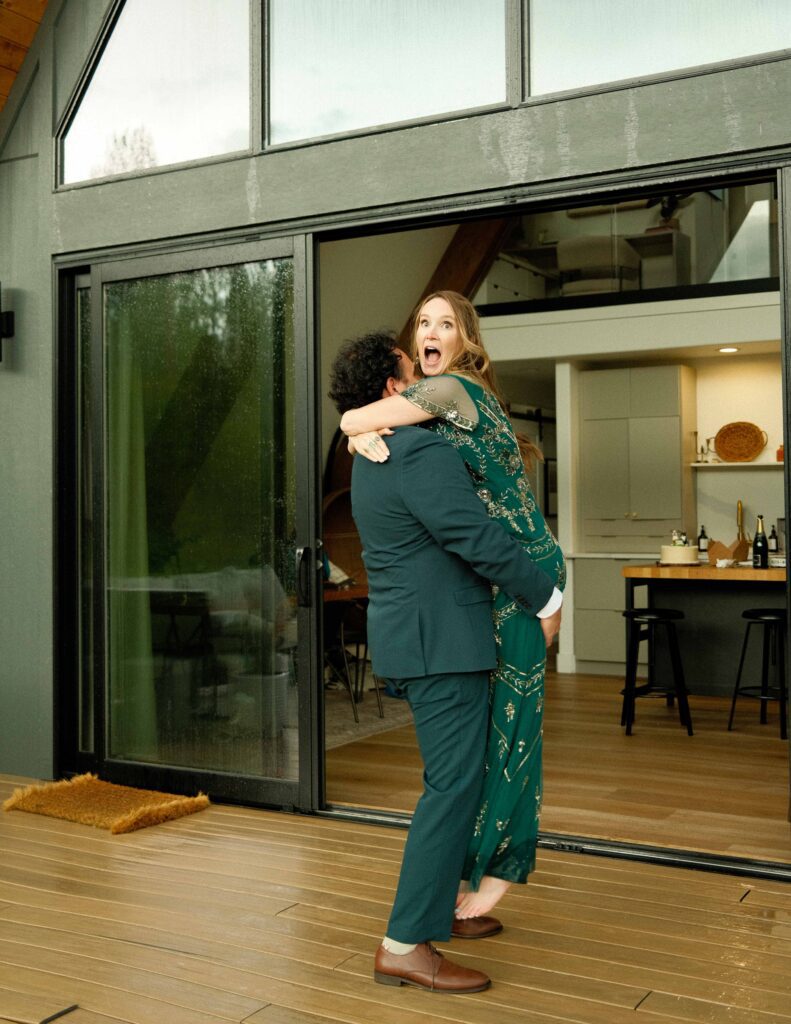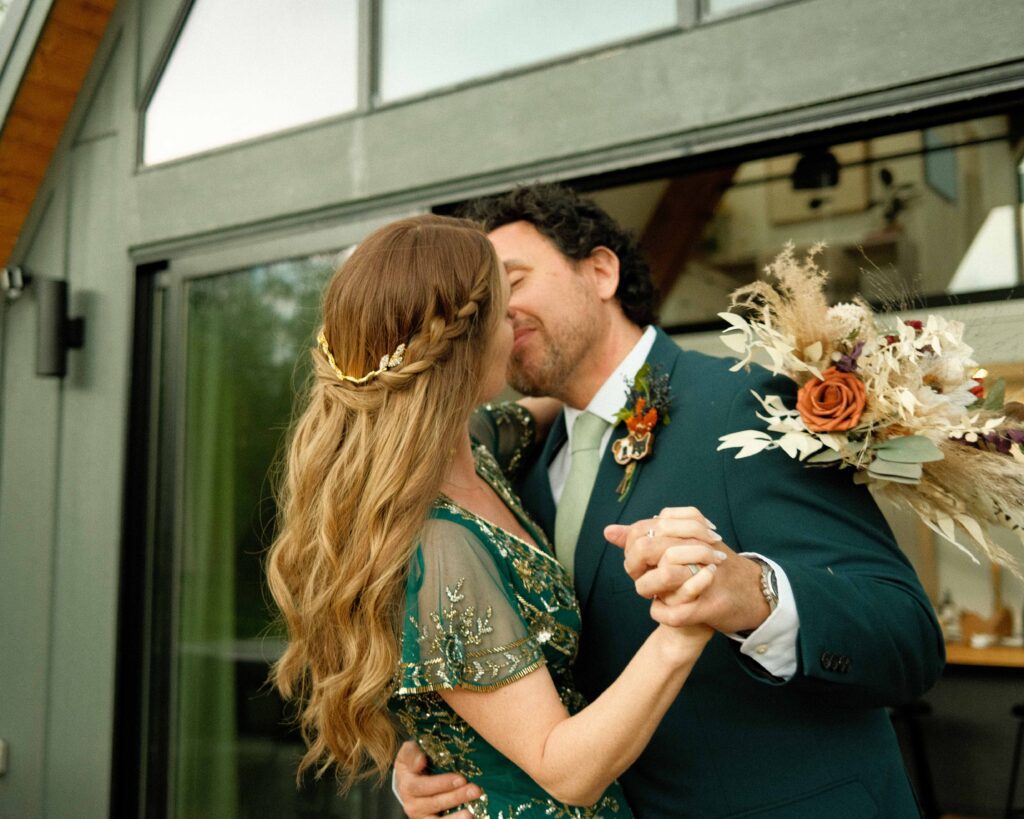 They danced some more on the wet porch to close out their day. And soon after, we all dug into this carrot cake. I'm not typically a vegan or a carrot cake girly, but this cake was PHENOMENAL. Shout out to that bakery for knocking it out of the park!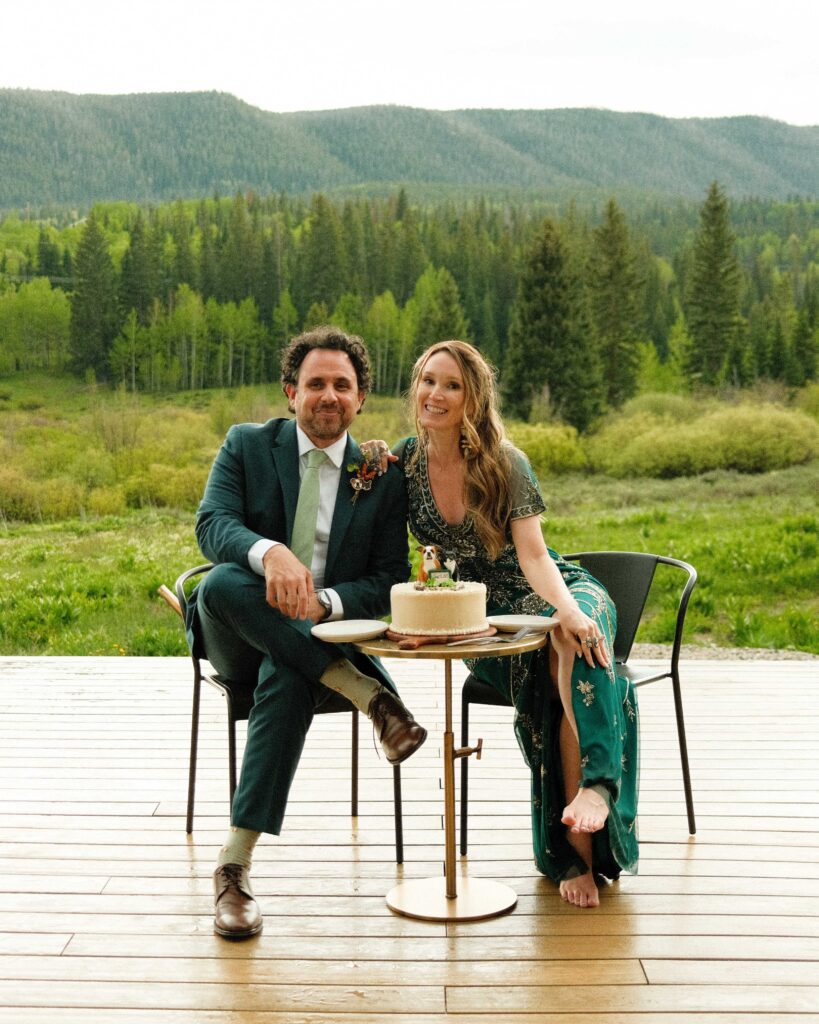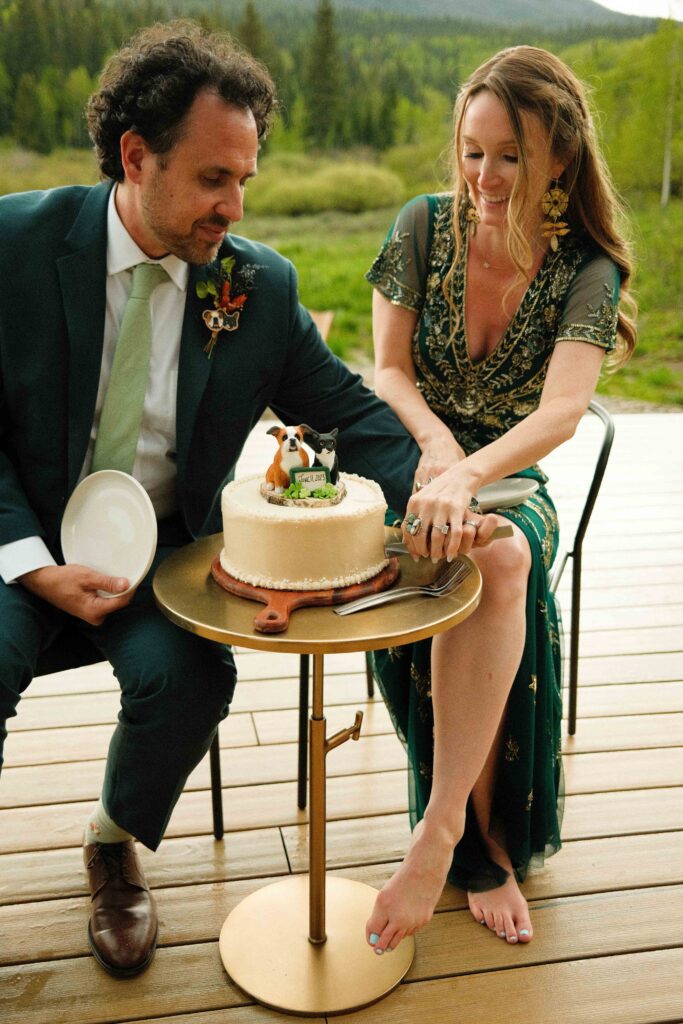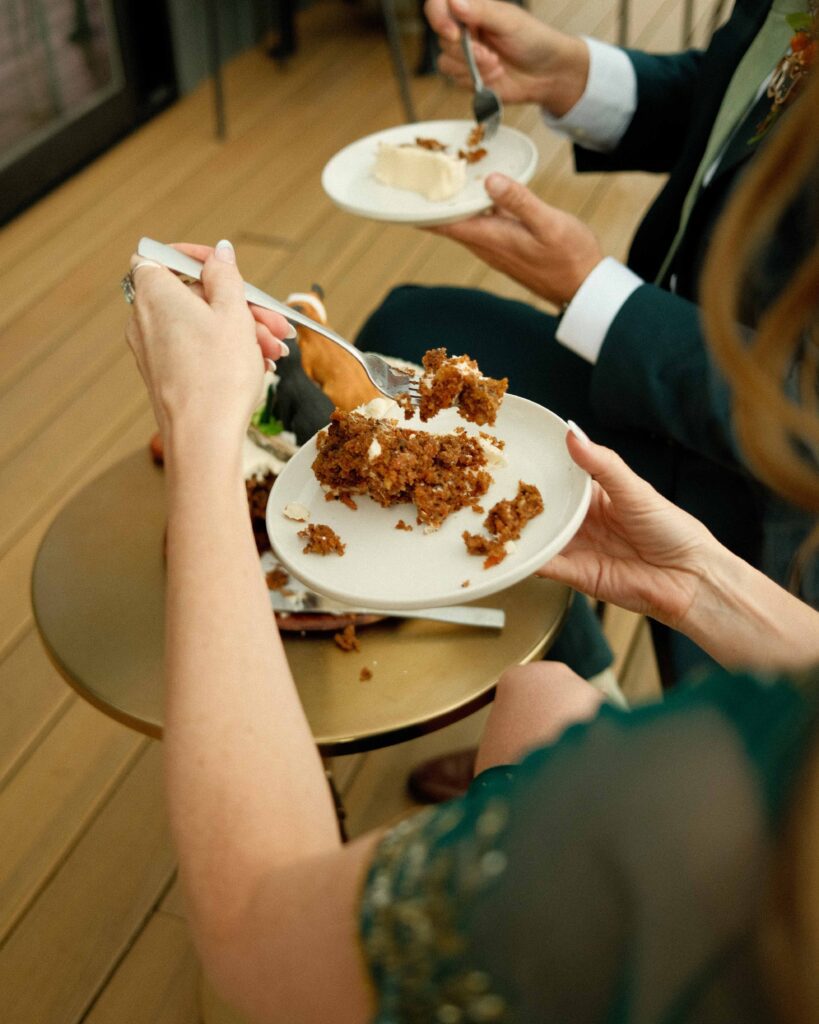 Before I left, I took a few more portraits of them in Erin's new outfit. In the field together and barefoot on the wet ground, they were officially married.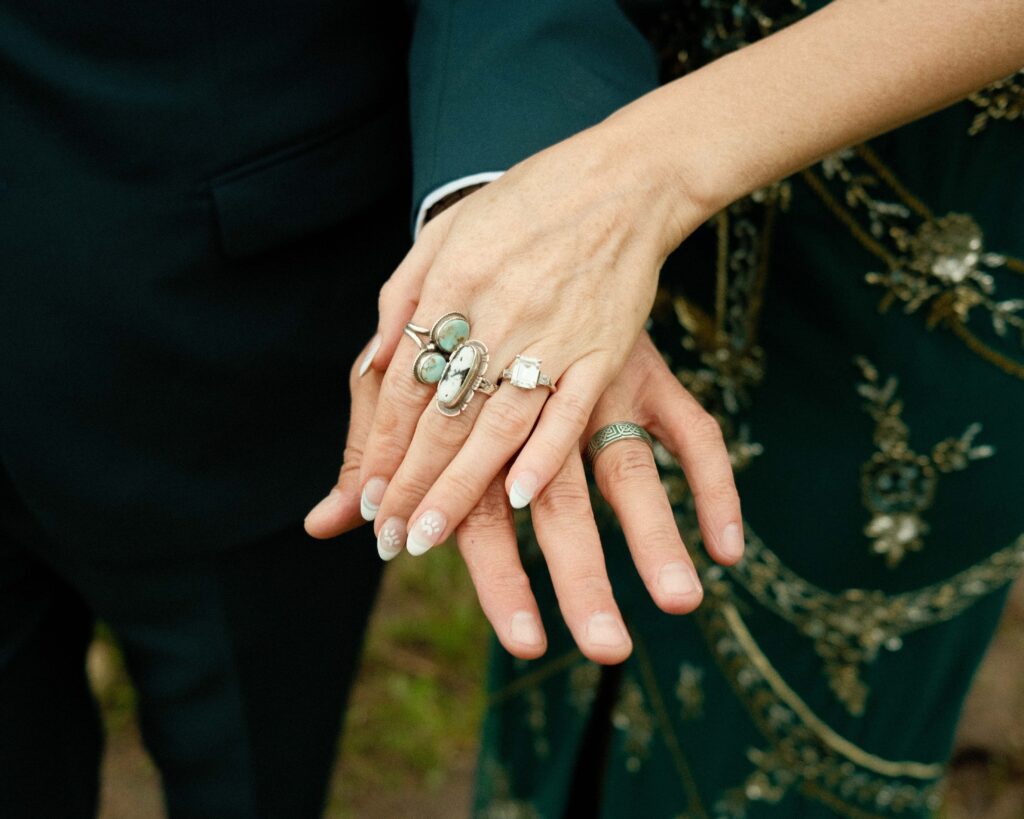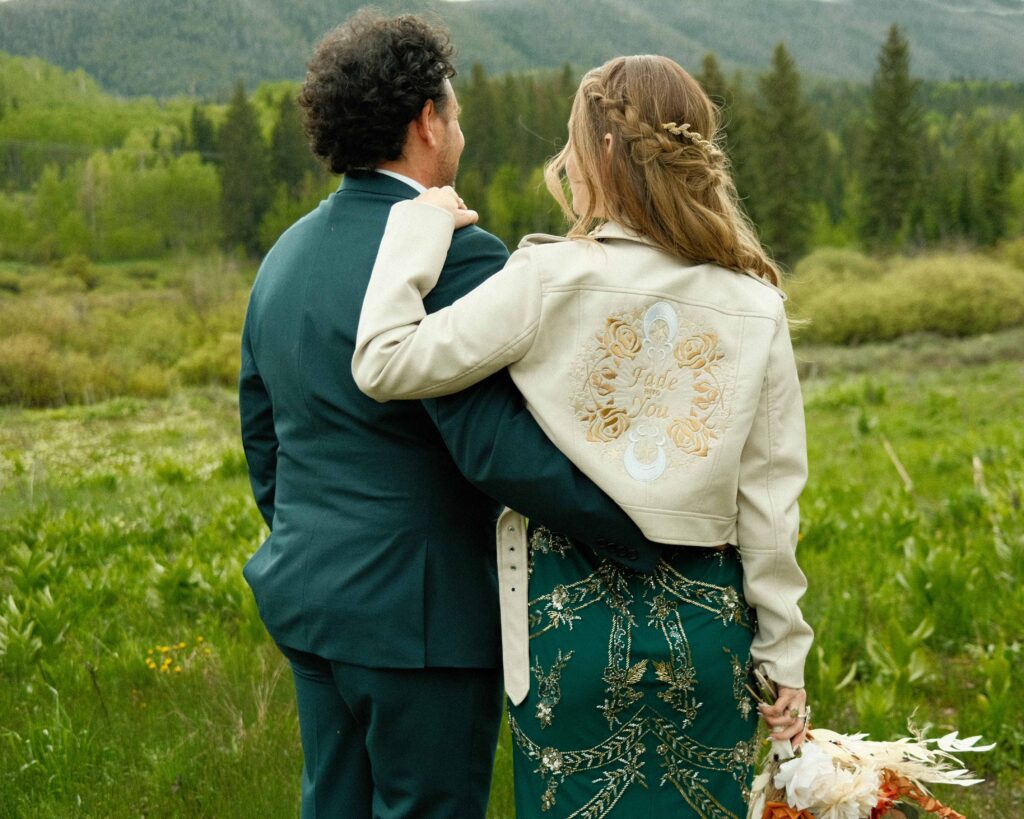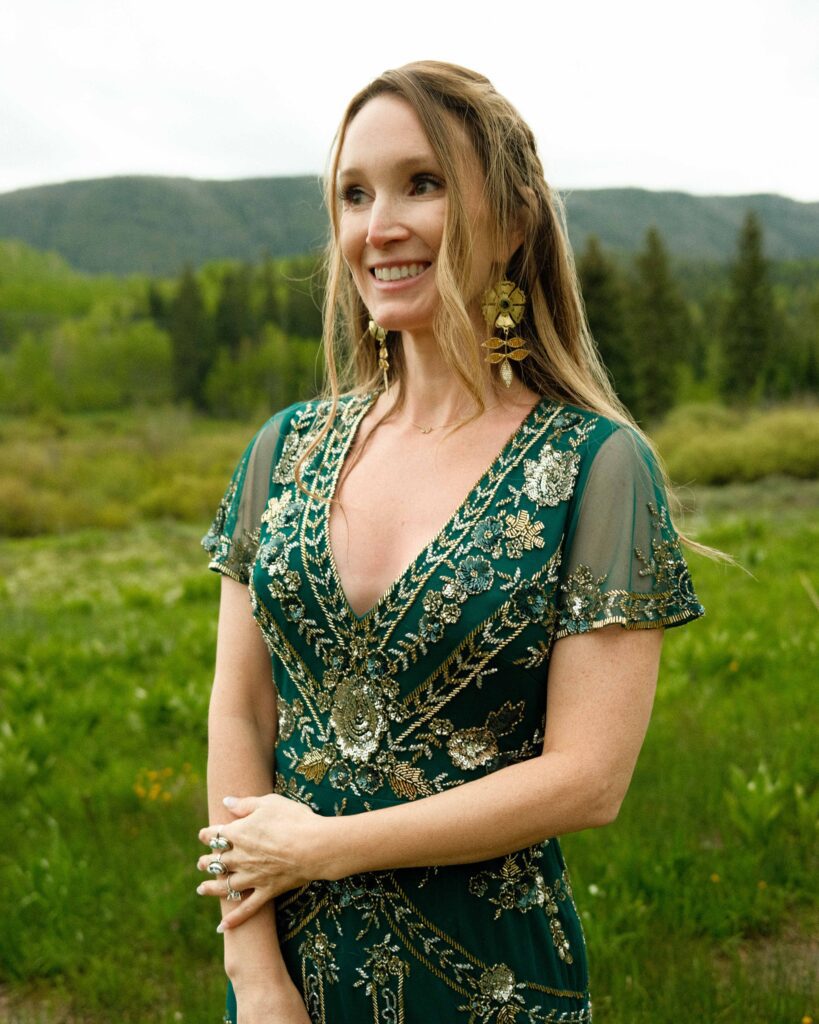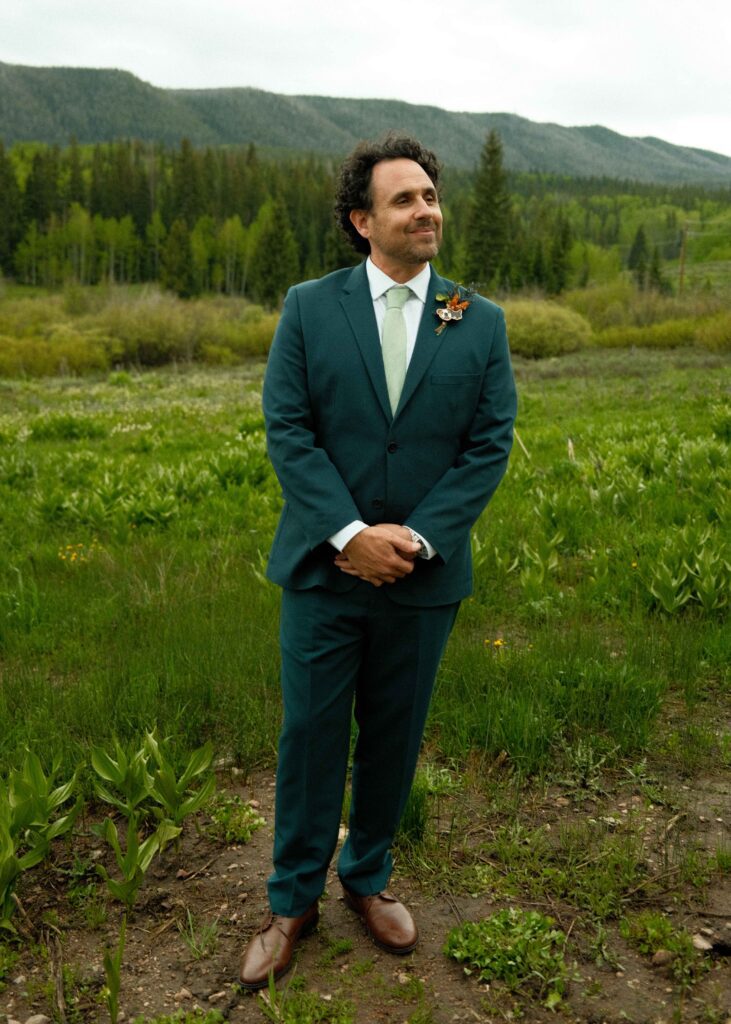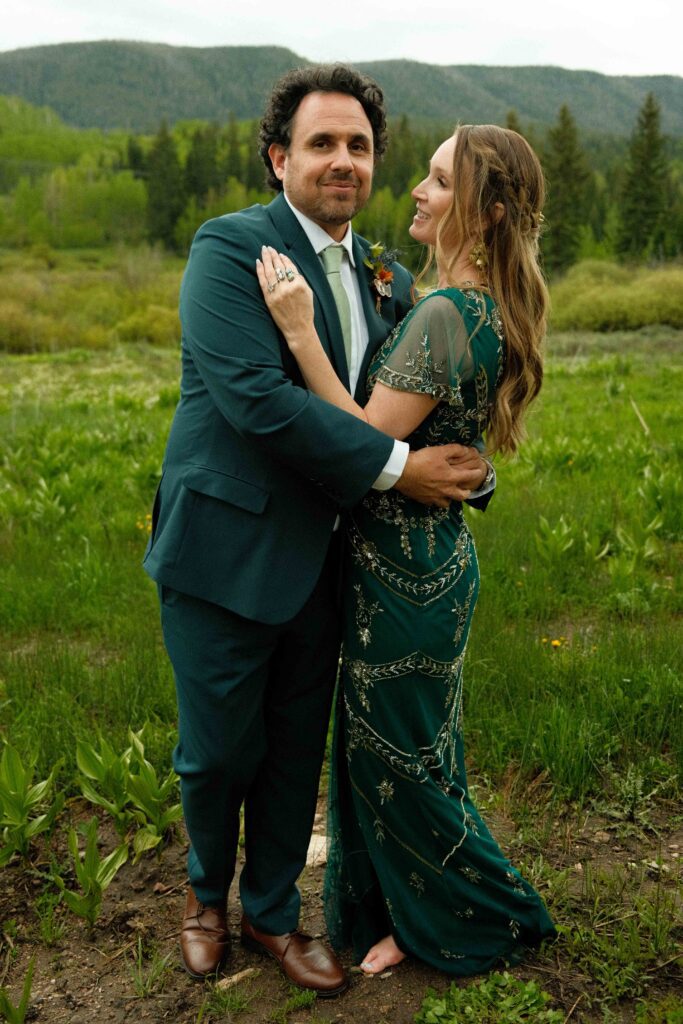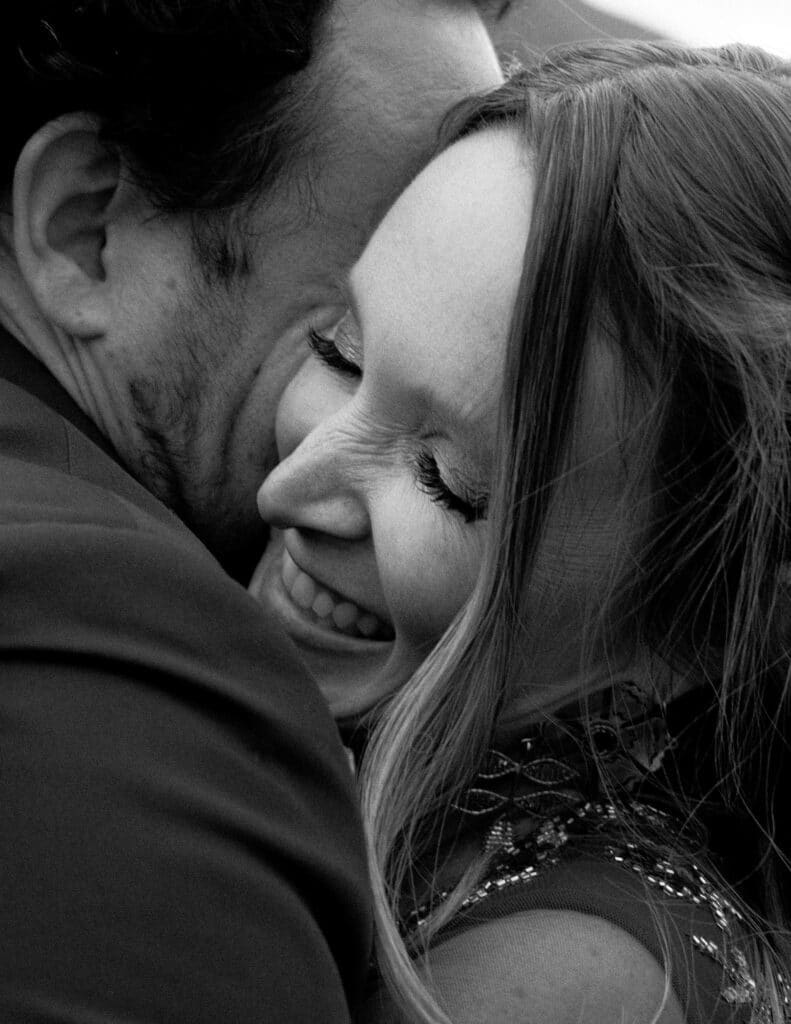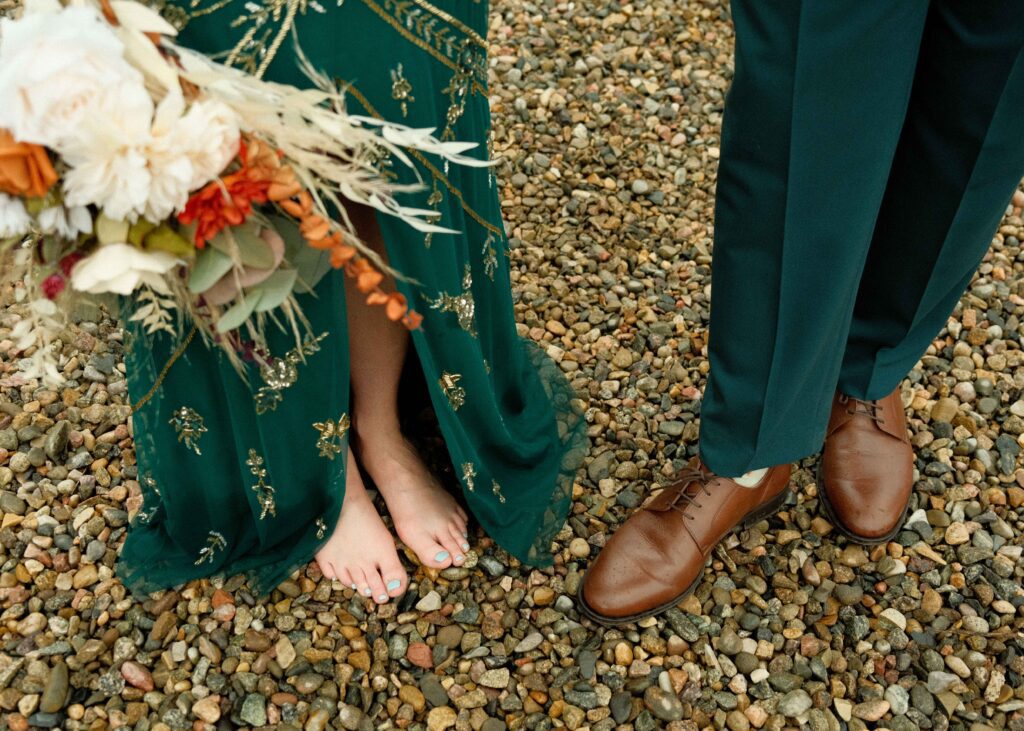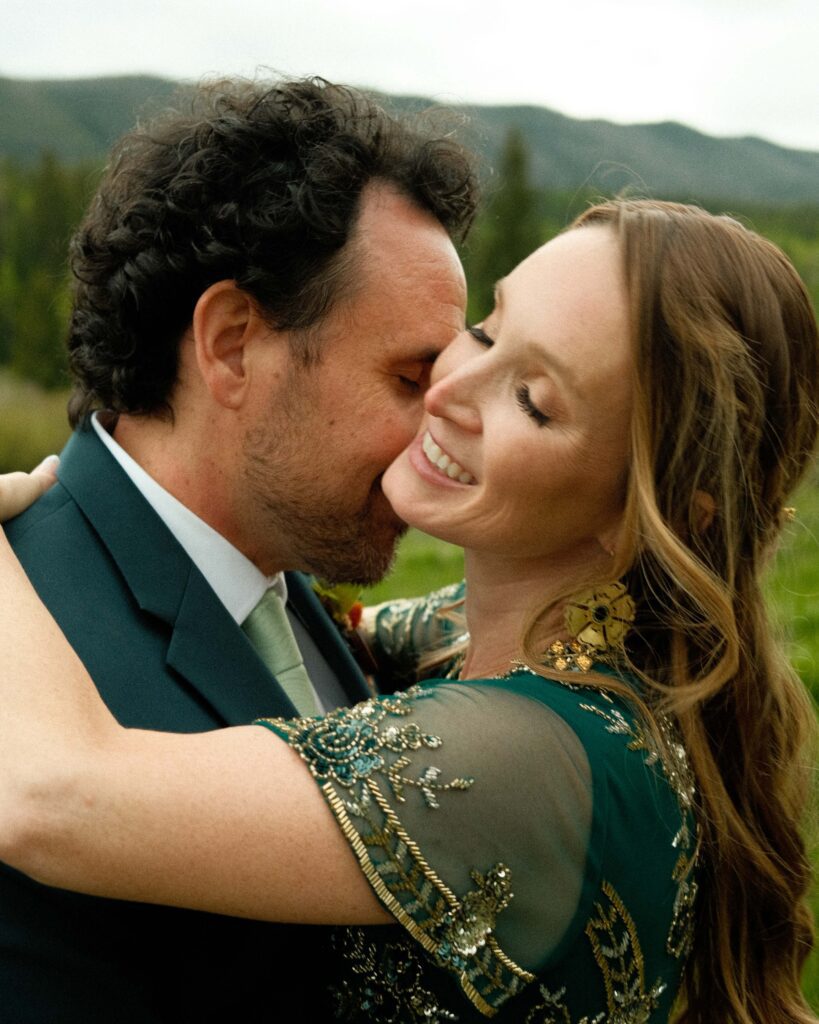 Wondering what your perfect day could look like? Samesies.
You can explore my services here!
If you're feeling' ready to get groovy with lil ol' me, hit me up here!
---